« When Bouzouki Shares Spirit | Main | Last Call! River of the West 2013 »

May 7, 2013 | JazzMando Tote Bag
Featured in the JazzMando Logo Store
The JazzMando 100% cotton canvas tote bag has plenty of room to carry everything you need when you are on the go. It includes a bottom gusset and extra long handles for easy carrying, made of 10 oz heavyweight natural canvas fabric.
We keep one in the car for groceries, and most of the local grocers give a nominal discount off your total each time you use this instead of plastic or paper. It paid for itself in a couple short months.
They're also great for starting conversations about mandolins!
Full side and bottom gusset
22" reinforced self-fabric handles
Machine washable
Measures 15" x 18" x 6"

Purchase information: JazzMando Tote Bag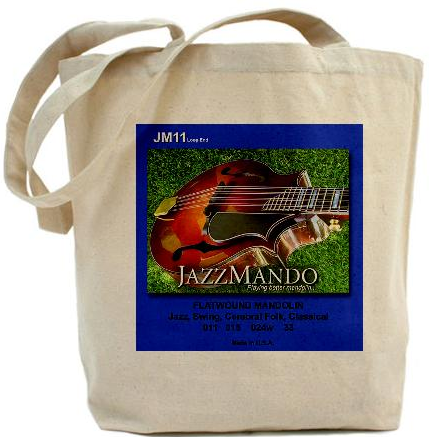 Posted by Ted at May 7, 2013 5:15 AM