« Last minute mandolin gift ideas. | Main | Christmas Eve »

December 22, 2011 | A holiday surprise for you from Mando Mode Explorer
You'll enjoy this! From Groveland Software, a free web-based interactive chord inversion chart. Intuitive and aesthetically gorgeous, this dynamic resource allows you to grab a chord and move it (indefinitely) up the fretboard. It's tutorial, wallpaper, screen saver... even "game!" For a real odyssey, expand your HTML5 browser out to full-screen, pick from 57 chords, and enjoy a tour through the universe of chord inversion shapes--in fifths-tuning, of course.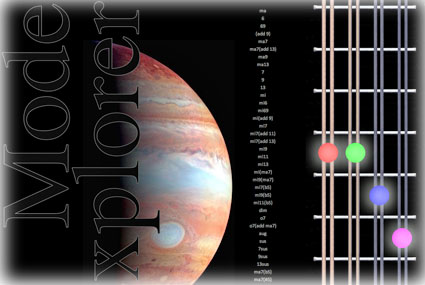 Find it here: ModeExplorer Inversion Horizons
Also available at the Google Chrome Store
More about Mando Mode Explorer and Jazz Cittern Explorer
We've offered a couple versions of a printable chord charts in our Free Downloads page. Reader Jay Smith has generously contributed his own Excel based version with more realistic neck fret distance tapering. This might be more logical to your eye, so we're going to put it out there as an alternative. If paper is your thing, you can print this off and capture some your discoveries from the Inversions Horizons experience.
Enjoy!

Jazzmando Extended Fretboard Chord Template

Posted by Ted at December 22, 2011 7:14 AM