« Spelling out the chords melodically | Main | Glen Campbell; Wichita Lineman »

August 22, 2011 | JazzMando on Facebook
We don't know how it happened, but our FFcP Fretboard Yoga for Mandolin Group page on Facebook has disappeared. We appreciated the opportunity for discussion and interactive feedback on Facebook, so we've created a separate new fan Page for this site over there. We'll be running feeds of our bi-daily News listings and weekly "Tips and Tricks."
We'll probably slip in some other interesting discoveries like videos, classified finds, and pictures of interesting things, so if you are on Facebook and haven't already "liked" JazzMando there, get started.
We'll make it worth your while!
Like JazzMando Facebook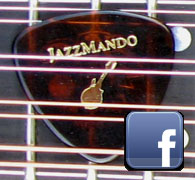 .
If you haven't signed up for Facebook, find out what you've been missing!
Posted by Ted at August 22, 2011 5:19 AM