« Austin Clark Redux | Main | New Planet Waves PW-CT-12 NS Mini Headstock Tuner »

August 12, 2011 | Classifieds Selling Tips

Congratulations to Scott Tichenor and company for achieving a 50,000 milestone of MC Classifieds ads listings. This (free) Mandolin Cafe service has been the "go to" for a huge volume of personal sales, let alone an invaluable resource tracking the realistic street value of mandolins and related products for over a decade--around the world. We've enjoyed selling (and buying!) through there, and as a side benefit, have made new friends there, as well.
We thought we'd share some tips on successful selling in these classifieds, as well as the similar online options available...
SO, WHAT SELLS AROUND HERE?:
Pictures. Clear representation, multiple angles with effective lighting, crisp resolution
Price. Don't tease, if you want to sell it, know what you want and name your specific price. Right there.
Promise less, deliver more. There is an art to underselling; you want your customer to keep it, not just buy it. Don't set him/her up for disappointment when that box arrives.
Past. Build a reputation you can ultimately bank on--long term. Treat your buyers fairly, a collective, cumulative pattern builds credibility (and ultimately value) into your offerings over time. Most of the readership is in this addiction for the long haul, both as sellers and buyers ourselves. Sell. Buy. Repeat.
Promote. Share your ad with the social network tools provided, Facebook, Twitter, or your personal website. Selling is as much about exposure as it is value.

---

Check out the latest Cafe listings, promote the Classifieds as a service on your own website, or make a donation for continuation of this incredible resource.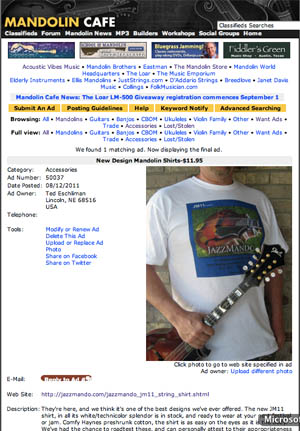 Posted by Ted at August 12, 2011 5:49 AM