« Now in limited supply, JM11 Cotton Tees | Main | Reader review; 1st Annual Jim Richter Rock-n-Blues Mandolin Camp »

August 2, 2011 | John McGann. Encore.
As if the recent Mandolin Cafe 10 Questions interview with world renown artist/teacher/author John McGann wasn't enough, the Bostonian multi-instrument has bedazzled us once again with this terrific YouTube video, this solo rendition of the '70s Yes classic, "Clap" on his Sobell octave mandolin. A veritable one-man orchestra, McGann tears this one up, and the piece translates well from guitar to the OM.
Video link: John McGann plays Steve Howe "Clap" on Octave Mandolin


Review 10 Questions with John McGann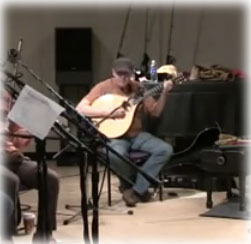 Posted by Ted at August 2, 2011 5:22 AM