« Book plug: "Getting into Jazz Mandolin" | Main | "Nothing Serious" Jazz with Bryce Milano »

December 6, 2010 | Lara and Reyes, "Navidad"
Christmas albums performed on acoustic instrument can be timeless, especially if produced exceptionally well. and even better when the project resides in that delicate compromise of tradition and ear-tickling compositional freshness. Such is the case with a now ten-year old project by the Latin-Salsa fretted duo of Grammy nominated Lara and Reyes entitled "Navidad." Our friend and multi-instrumentalist Sergio Lara recently reminded us of this project that many mandolinists might have passed up the last decade, expecting this to be exclusively guitar.
That would be incorrect.
The eighteen song collection of Yultide favorites is packed with the pristine mandolinning on Lara's cira 80's Gibson F5L, backed by guitar partner Joe Reyes. Sonically crisp and executed with a combination of precision and glee, this is a great CD to put in the family Christmas rotation every year. Who can not like a quality assortment of acoustic Christmas favorites?
Purchase information and/or download: Navidad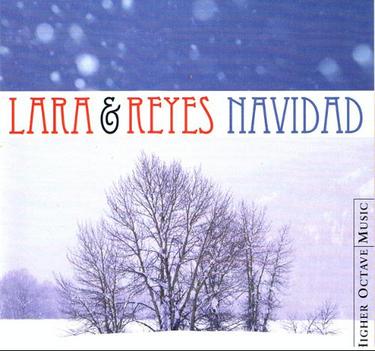 TrackList:
01. Winter Wonderland
02. Santa Claus Is Coming To Town
03. Have Yourself A Merry Little Christmas
04. Away In A Manger
05. White Christmas
06. God Rest Ye Merry Gentlemen
07. Silent Night
08. The Christmas Song
09. Feliz Navidad
10. Frosty The Snowman
11. Silver Bells
12. What Child Is This?
13. O Come All Ye Faithfull
14. Angels We Have Heard On High
15. Rudolph The Red Nosed Reindeer
16. Let It Snow
17. We Wish You A Merry Christmas
18. Auld Lang Syne

Posted by Ted at December 6, 2010 5:40 AM