Weber
Gallatin D-hole Mandola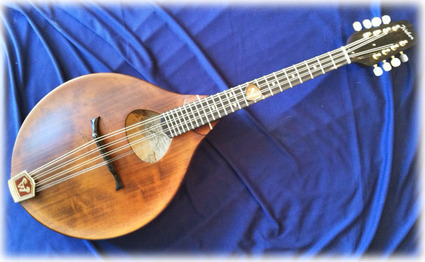 We mentioned last winter, an intriguing feature on the Sound to Earth website (Weber instruments) that allows you to build a cyber instrument from a stock template of their standard models and compelling upgrades. In the interest of science, okay we'll confess to a little fun, too, we decided to run this through its paces and actually purchase an instrument, a Gallatin mandola with D-hole and some slight cosmetic variations. We added gold hardware, and opted for the aged tailpiece, expecting an economical professional calibre alto/tenor range instrument.
We been stricken by the 2-point (let alone F-body) instruments founder Bruce Weber and his team of mountain country craftsmen have produced the last decade and a half under the Weber name, and prior to that, the original Flatiron. Looking to keep costs down for what would be more of an auxilliary instrument we chose the A-body Gallatin, appropriately named after the Gallatin River of Yellowstone which spills into the Gallatin Valley, home for wildlife and first class fishing. Tradition, subtle contemplation, and a stripped down, uncomplicated atmosphere would also be the perfect environment, for playing this instrument.
The finished work is not something that sparks huge attention with penetrating harmonics or brash projection. The mandola sonic character packs a humble, yet rich lower register, and the only thing that distinguishes it from its more expensive siblings (Bighorn, Fern, Bitterroot) besides cosmetics is a reduced tonal prowess in its upper frets. The Gallatin is perfectly competent below the 12th fret where the majority of less experienced players reside, anyway.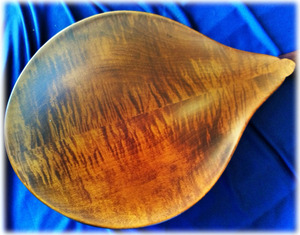 String-to-string balance is terrific, everything you'd expect from a world class builder, action smooth across the string courses as well as up and down the fingerboard. The wood is well-figured, easy on the eyes, especially with its luscious faded leather stain and finish. It feels good in the hands, jumbo sized frets stable, and stirs the ears as well. Anyone wanting a competent secondary instrument to complement a soprano voice would enjoy this for a change of pace.
Plenty of volume, the mandola resonates nicely, and even this warmer oval-holed incarnation projects well. It doesn't explode sonically, but it slowly erupts.
There are some great things happening out in the converted schoolhouse of Logan, Montana, 25 miles outside of Bozeman. A rich multi-decade tradition of craftsmanship lives on in the hands and training of Bruce Weber and his American team of workers. The higher end models continue to compete successfully in the professional realm of the international market, and the streamlined Gallatin and Hyalite instruments are worthy of attention for even the serious mandolinist looking for a competent auxiliary or mid-level aesthetic tool.
Mfg. suggested list price: $2399 (without upgrades)
Visit Design a Weber.
Read up on other world class mandolin builders: