« March 2015 | Main | May 2015 »

April 30, 2015 | Use neuroscience to impact your playing?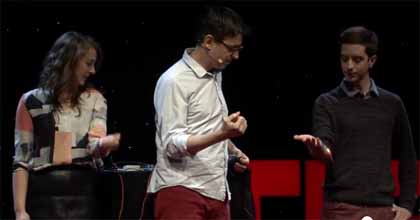 Greg Gage is on a mission to make brain science accessible to all. In this fun, kind of creepy demo, the neuroscientist and TED Senior Fellow uses a simple, inexpensive DIY kit to take away the free will of an audience member.
It's not a parlor trick; it actually works.
Video Link: Greg Gage: How to control someone else's arm with your brain

Now if we can only figure out a way to get ourselves hooked up to Evan Marshall...
Posted by Ted at 8:01 PM

April 23, 2015 | Alternate Minor Blues
We've covered more sophisticated, jazzed up 12 bar blues patterns in major keys. Most likely you have experimented, but have you ever gone into the cool variations on minor blues?
In addition to the more pure traditional minor (and a spiced up version), there's an alternate, and a modal version. We introduced these in our February 2011 Mandolin Sessions article, but here they are in the key of D minor: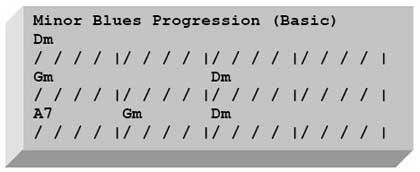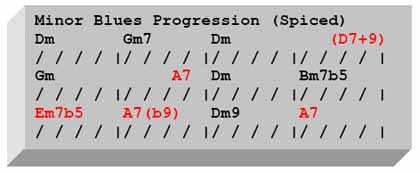 Enjoy!
Further Fun:
Minor 7th Chord streams up the neck
Applying Turnarounds
Secondary Dominants
Webtracks

Posted by Ted at 1:03 PM

April 16, 2015 | Sustaining Principles.
On an online mandolin community, members were discussing the nature of sustain on their instruments. One of them was actually complaining that he had too much sustain on his E and A strings, and was looking for a way to rid of it. Too much sustain? That's like one saying "I've got too much money."
Maybe there's a case for the imbalance of string sustain, say your D strings sustain more than your Gs, but a good mandolinist wishes he/she had the sustain of a clarinet like Pinocchio wishes he were a real boy. Then there's the bluegrass "motorboat" approach to picking, which is percussively akin to playing cards on clothespins snapped by bicycle spokes, and only slightly more melodic.
Slightly...
Our unabashed bias is for mandolin tone that retains its energy through long phrases, notes connecting from the end of one to virtually overlapping the beginning of the next. It's the wind driven sonority of a clarinet versus the decaying resonance of a xylophone. To get that you have to understand the basic mechanics of the plectrum.
You cannot add sustain, you can only diminish the rate of decay.
Good tone can only be because of a good pick stroke.
One note must bleed into the next to connect a strand of notes into a phrase.
Shortening the string adds energy (vibration), lengthening it reduces it.
Maximum closed-fingered tone only happens at the sweet spot between the frets.
These are all principles that take conscious, intentional practice. At slower tempos, you have the ability to concentrate on each component, but they aren't any less important at higher speeds. This is why you need to practice good tone slowly, whole notes and half notes, before you worry about executing quality sustain at pyrotechnical speed.
Review out our October 2009 article, Whole(some) notes. In this we look at ways of building deliberate tone through whole notes.
You can never have too much sustain!

Further:
The Crack of the Bat
Forsaking the notes for the music
Starting with good tone
Using the picking hand to start Good Tone.
What makes a jazz mandolin?

Posted by Ted at 8:03 PM

April 9, 2015 | Major 7th & Minor 7th Arpeggios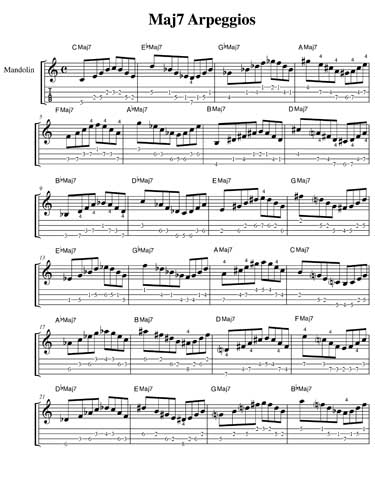 Knowledge of the chord tones both intellectual and tactile can be one of the best ways for your improvisation to make sense. Scales, both pentatonic and modal are great for producing smooth linear phrases, but once in a while you want to jump around, and if you're fingers can find the chords better than your brain, your soloing can reflect the harmonic identity of the song.
Best way to get this skill? Learn your arpeggios in all 12 keys. Remember though, with FFcP, there's only four ways to finger these. Taking our approach can super charge your development of subliminal chord awareness.
We give you drills for two 7th chord forms, Major and Minor.
Download PDFs:


Maj7 Arpeggios


Min7 Arpeggios
Posted by Ted at 8:28 PM

April 2, 2015 | Zak Borden Mandolin Lesson: Beginning Improv. 1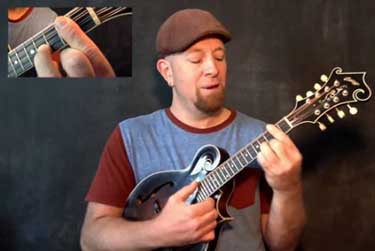 For some, the idea of improvisation is like jumping off a diving board. You stare at the vast surface of water, knowing it's deep but you're unsure what to do with yourself along the way, and you kind of short circuit.
Knowing some of the tools, scales, arpeggios, licks (motifs) can help, but it can also intimidate. We can try to do too much. Zak Borden in his continuing YouTube video sessions has a three part series on improvisation. His is a masterful approach to diving in without fear. A simple direction: know where you are going to do to start and how long you have. Then, it's just a matter of filling out a skeleton with the very basics of melody.
Enjoy!
Video Link: Mandolin Lesson: Beginning Improv. 1

Continue on:
Mandolin Lesson: Beginning Improv. 2
Mandolin Lesson: Beginning Improv. 3
Sign up for Skype lessons with Zak.
Posted by Ted at 5:58 PM