« May 2012 | Main | July 2012 »

June 28, 2012 | Tips on improvising from the Pros; Will Patton
In our April Mandolin Sessions finale, we asked a dozen of some of the industry's high profile players about their take on the creative process. Objective vs. subjective, cerebral vs. intuitive, planned vs. spontaneous, established harmonic language vs. muse, all are ends of a continuum of approaches on how to successfully improvise. This week, we'll look at Vermont based muli-instrumentalist and cutting edge jazz mandolin innovator Will Patton for his take.


Will Patton
Most students of improvisation know that the way into good solos is two-fold: the academic study of scales, arpeggios,modes, harmony, etc. and the more innate, emotional, 'just let it all go' approach. Both are required to make it all happen, but I'll focus on the latter.

Jazz and blues are, to me, very vocal forms, so my quick takeaway is: sing! Sing a riff from your favorite Lester Youngor Stan Getz solo -- this will always be closer to what the artist felt than transcribing and analyzing (though both are valuable). It's an aural tradition. Play thru a progression you're very familiar with and SING a solo over it, then see if you can play what you sang. The more you listen to the greats the more vocabulary you'll have. It's tempting for an instrumentalist to run a stream of 8th notes because they can but a simple melody played with feeling will always be more effective. The good stuff comes from that singing part of the brain.
.
(Vermont based Will has recorded and produced five of the finest acoustic jazz mandolin CDs in existence. Indeed, they sing... www.wpatton.com/albums.html )
Artist Bio (from wpatton.com):
Will has been playing music since the age of 6, starting on piano and taking up guitar at age 12. Mandolin and bass soon followed, and he's been leading bands since he was thirteen. He studied at Middlebury College in Vermont and discovered a deep connection with the rural landscape there. "Vermont called to me immediately as the place I wanted to call home... I love to travel, and I love returning to these Green Mountains."
His travels have taken him to Rio, Paris and the Caribbean as well as all over the U.S. and Canada, playing rock and roll, folk, bluegrass, Brazilian music, and jazz. His bands have opened for Van Morrison, Ray Charles, Bonnie Raitt, Earl Scruggs, Maynard Ferguson, John McLaughlin and Toots Thielemans. He has shared the stage with Roy Eldridge and Mose Allison and is featured on many recordings as a bassist and mandolinist. During the last ten years he has been visiting and playing in Paris, and his collaborations with legendary gypsy guitarist Ninine Garcia as documented on his recordings have received critical acclaim both in the U.S. and abroad.

Video link: Will Patton and Ninine Garcia in the Studio, "Caporal Swing"

Posted by Ted at 7:35 AM

June 21, 2012 | Two Octave FFcP continued
Last week, we looked at splicing two FFcP patterns into a two octave drill. We mentioned how these one octave blocks of notes stack nicely and with the 1st FFcP and the 4th FFcP, we have the luxury of not having to shift horizontally up the neck. Not that we want you to stay trapped in one position forever, this is just a good exercise to hone consistency transitioning across the strings. If you are doing it right, you're keeping the palm of your fretting hand from moving around and you're hovering you fingers low and close to the strings for minimum movement even from the G string to the E.
Previous article: Two Octave FFcP
Listen closely as you play, if the sound is not level, strong, and convincing from top to bottom, you need to pay attention to the weak areas--break them down and woodshed them individually. The 3rd/4th finger interchange can be a challenge to even the heartiest FFcP aficionado. When you do master this, you'll find your playing improving in other pieces of music that require long passages across the strings. Worth the investment!
We looked at the Major scale, but there's no reason we can't do the same thing with our Minor/Dorian mode FFcP patterns. We'll move it up a fret and do this week in B minor. This is a great area of the mandolin to play in. The frets are closer together for less stretching, and you have better finger control and flexibility for moving BOTH down and up the fingerboard when you do decide to leave.
Violinist/Mandolinists with their traditional pedagogical background may think this is awkward, especially last week's Bb drills. Rarely do they use the 2nd position fingerings for reasons we won't go into today, but trust us, this is a good skill to have, exploiting the "cheating" frets offer in finger reference. It's something to build on for later.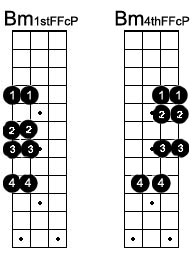 Start on B on the 4th fret of the G string and move up the fretboard (starting with your first finger), and do two octaves without having to move up the neck. It's perpendicular rather than lateral.
Check it out:

Two Octave FFcP PDF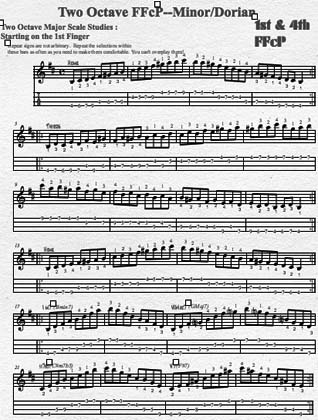 Further:
FFcP vs Traditional Violin Positions Fingering
Dorian/Minor FFcP
Moving on up. And around.
Left hand hover
FFcP Index
Posted by Ted at 6:53 AM

June 14, 2012 | Two Octave FFcP
In the early days of adapting to the FFcP exercises, a huge benefit is the bite size nature of the one octave patterns. You have all seven tones of the scale, and we work consecutive steps, 3rds, 4ths, arpeggiated 7th chords, and contrary motion, putting them into your fingers and freeboard. You learn them like you learn words. Later they become part of a larger whole of musical sentences. If you do them enough (and properly), they become intuitive, and you don't really think them. They're just there.
One of the next steps is advancing them into multiple octaves. We demonstrate the way to do this in our "Moving on Up" exercise, but you can also get facility across the strings by stacking the 1st FFcP with the 4th FFcP pattern. You've probably already done this with the scale itself; why not do it with the other components of the FFcP drills?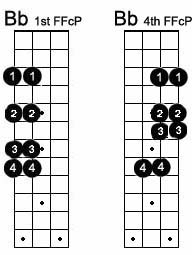 We've taken this leap in yet another installment of advanced FFcP with a new two page exercise. We move you up the fretboard starting with your first finger on the Bb on the lowest string, and do two octaves without having to move up the neck. It's perpendicular rather than lateral.
Check it out:

Two Octave FFcP PDF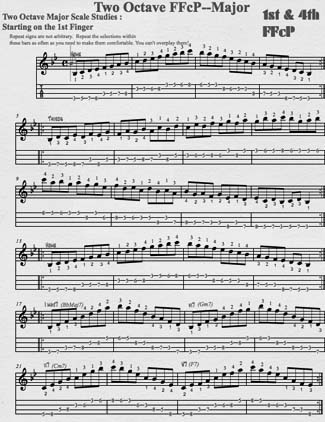 Note we can't do the same with stacking on top of the 2nd FFcP because we run out of strings on a 4-string instrument. Of course if you have a 5- or 10-string instrument, you can get clever and start playing this the same way and move it on to a higher string. We'll save that for you champions of the five course to work out.
Further:
"The notes seem to come from out of nowhere."
Stuff you can get for free at JazzMando
Moving on up. And around.
Numbers.
FFcP Index
Posted by Ted at 8:16 PM

June 7, 2012 | Fitting in with triads
We've presented many forms of 7th chord grips, explaining inversions, functions, and chord economy. We've also looked at some extended chords (X13, Xb9, X#11) and one thing we've overlooked in the years we've been around is the use of simple Triads.
We had a discussion about this with Chicago jazz mandolin royalty, Don Stiernberg a few years ago, and he weighed in with some profound thoughts on the adaptability of simple triad chords. Root, 3rd, 5th. You don't don't get much simpler than this and like vanilla ice cream in a Sundae, a lot of delicious ingredients go with this. His suggestion, sometimes when playing with other fretted accompaniment instruments, you can have full contact battle with comping musicians expressing complex extended chord voicing. You have a dominant 7th chord and the piano player slips in a #9, but the guitarist wants to do a b9. Or even a regular 9. Since the mandolin gets to hang in the juicy stratosphere of harmonic extensions by virtue of its soprano register, the risk is higher for us running into harmonic conflicts while comping.
Don's suggestion? Use more triads, no extensions. "Even 7ths. You don't necessarily need to play an Am7 when an Am chord will do. Straight major or minor triad," says our jazz mandolin hero. Often, that's all you really need to contribute to the ensemble to contribute, let alone appropriately fit.
Sometimes we do make things complex--to a fault. Maybe it's time to review your triad vocabulary. The late John McGann has a great introductory article on Triads on the Mandolin Cafe lessons pages.
Check it out:

John McGann's Guide to Mando Triads
MAJOR: 1 3 5
MINOR: 1 b3 5
AUGMENTED :1 3 #5
DIMINISHED: 1 b3 b5
We would also continue the notion that building these in 3-note blocks would not only increase your chord vocabulary, it would give you a slew of new connecting chords in your comping. Use the neutral blocks in other keys to pass from one chord to the next.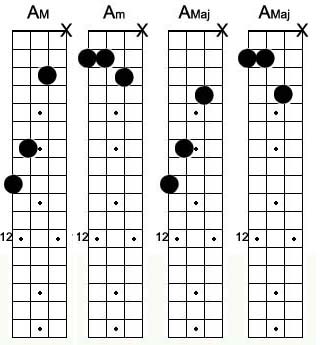 Further:
Mandolin Chord Economics
More Appropriate
Opening Opportunity in Accompaniment Mandolin
Comping and fluorescent bulbs
Posted by Ted at 9:37 PM