« January 2012 | Main | March 2012 »

February 23, 2012 | Building a solo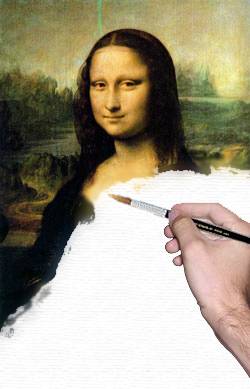 In improvisation, there's always a question of how much creativity is framed in intention and how much in brash, unbridled spontaneity. It's the enigma of the whole generating process, how much do we contrive out of calculation (modes, arpeggios, regenerated riffs) and how much just comes out of nowhere. We maintain you have to have a balance of both. Blind directionless blowing goes nowhere and has no repeatable structure for the listener to grasp. Mechanical, scale quotes are dispassionate and soulless. You need the combination.
One area you should aim for improvement is the concept of story-telling. The set-up, the conflict, the resolution. The story arc of any good movie, novel, or TV show should be as conscious of form as it is internal detail. Good soloists wrap their stories within the context of character development and intent.
The End. We mention this first, because it's the most often ignored. You finish your solo, and there's question whether or not you're really done. A good soloist hands the baton to the next soloist (or returns to the head) and gives a sense of finality. Good authors don't just arbitrarily write their words, they have a sense of how the story is going to end, and that should be the same with improvisation. You can end in a multitude of ways, a gripping climax of high notes, or a resolving release of tension in the lower register. Whatever your choice, you need to communicate a sense of "I've said what I'm going to say."
Intermediate resonance. In the middle of it all, you need to convey a sense of familiarity midst the departure. Returning to motifs from the melody or repeating nuggets from the previous soloists are a way of maintaining a sense of whole. You want to explore, but bring it home a few times with something the audience has already heard. The contrast makes the journey away even more intriguing.
Minor arcs of conflict and resolution. "Call and response" is like the soloist having a conversation with himself. Also called "antecedent/consequence," the technique is to include minor phrases of question, answer, question, answer. It can be as short as a couple notes or as long as four measure phrases. If you don't consciously include these in your solos, you'll sound meandering and directionless.
The Beginning. How you start the solo is almost as important as how you end. As the saying goes, "you never have another chance to make a first impression." You want to start with something concrete and intentional, but without the sophomore mistake of unloading all your best material in the first five measures. It can be transitional in nature, repeating the last phrase of the last soloist to set up a continuing story. It can be bold and contrasting, a new story. It should always be something you can build off of, confident and catchy.
We focus a lot on the details of soloing, borrowing notes from the scale, outlining harmonic progression, propelling with gravity notes and exploiting guide tones, but just as important is form. The best solos will be properly framed and hung proudly on the wall, worthy of display.
Further:
Compose yourself. Story Arcs
Compose yourself. Antecedent/Consequent thinking
Don Stiernberg on the "Big Picture" of improvising
Intentional Improvisation
More Appropriate
Posted by Ted at 2:09 PM

February 16, 2012 | The mandolin. A place in the world.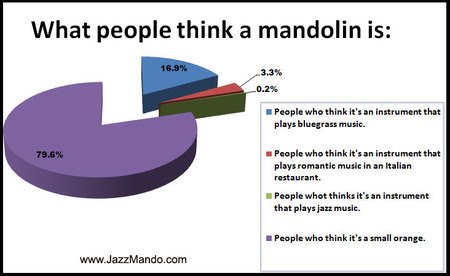 We had some fun with a pie chart recently. The above picture resonated with the mandolin community on our social media channels like a 24 Lloyd Loar mandolin. The point can't be lost in the humor though, that our funny little instrument hasn't followed the same popularity path as the piano or guitar. Even the ukulele seems to be going mainstream faster than its older 8-string sister.
The arguable sonic limitations of the mandolin are probably why, it's narrow alto/soprano range doesn't make it the greatest accompaniment instrument, but there's still a ton of aural potential left in the world for more mandolin that goes beyond bluegrass, sappy movie soundtracks, and classical solo and ensemble literature.
We mentioned jazz in the chart (duh, this is jazzmando.com), but there's untapped potential in the rhythm section of a contemporary praise band and acoustic driven rock or roots music band. The 20th century has been kind to introducing the mandolin and family (mandola, bouzouki, etc.) into a Celtic identity, and of course, there's a huge following of electric mandolin in Eastern Indian music. The Brazilian identity (bandolim) has also matured through a strong impact in Choro music.
Still, we want to see more, and this website is dedicated to its expansion. Our challenge is to put the sound of the mandolin further into the ear of the public through advanced playing techniques and new ways to approach tone.
Join us.
Further:
Opening Opportunity in Accompaniment Mandolin
A common mistake. Clacky, clacky...
Punctuation and percussion; what you can learn from a good drummer.
Complements of you...
What's a mandolin sound like
Posted by Ted at 8:49 AM

February 9, 2012 | Pete Martin: Fast track to improvising with CTS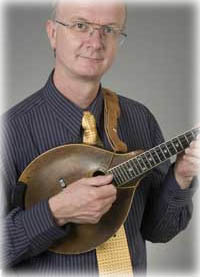 We've mentioned the pedagogical brilliance of Pacific Northwest educator, clinician, and multi-instrumentalist performer Pete Martin on the site before. His collection of online books are an unimaginably good resource for the beginning and intermediate jazz aficionado and any musician attempting to board the train of great improvisation. We highly recommend visiting his site, downloading as many of his books as you can, and of course, pay him his due. You have the benefit of viewing the entirety of each book before you make an investment (donation, really) of $10. By the time you've finished your review, you've already learned something!
The issue he addresses in his "Using the Chord Tone Scale" book is how to get maximum harmonic buck out of melodic patterns based on scales. We all work on the scale, and when you play them straight down and in rhythm, what you discover is you don't always have a strong chord tone on a primary beat. If you're doing a G Major scale, you've got G a B c D e f# G, and immediately, because of simple math, you're out of sequence with strong tones on the beat. Pete's simple "CTS" system supercharges your ability to intuitively and simply place chord tones by omitting some of the scale degrees in ascension and descension.


To play the ascending CTS: Take the major scale and remove the sixth note.


To play the descending CTS: Take the major scale and remove the seventh Note
When you go through this book, he'll show you strategies of manipulating these efficiently through different chords in the scale (diatonic), and modulating through keys. We think this is a much more mature way to attack jazz than relying on Pentatonic scales because it doesn't omit the strong guide tones all the time. It's not something you will do all the time, but it can help the novice feel comfortable jumping right in to active improvisation.
Chapters include:
Introduction
Chapter 1 Explanation of the "Chord Tone Scale" (CTS)
Chapter 2 Practicing the CTS
Chapter 3 Practicing CTS in Multiple Keys
Chapter 4 What Scales to Use When Improvising with CTS
Chapter 5 Playing through Chord Progressions Using CTS
Chapter 6 Playing CTS on Minor Chords in Major Keys
Chapter 7 Playing CTS on Dominant Seventh Chords
Chapter 8 Other CTS Patterns
Chapter 9 Minor Keys and CTS
Chapter 10 Wrapping Up a Solo Using CTS
Chapter 11 How CTS is Used in Common Tunes and Solos by Top Players
This will be the best $10 you spend today!
Purchase information: Mandolin and Fiddle Improvisation Using the Chord Tone Scale
Other Petimar Press books: Download Library
Further:
Pete Martin: Bebop Scales for Mandolin and Violin
Pete Martin: Bebop Mandolin; Target Notes and Chromatic Approaches
Pete Martin Jazz Chord Book
Approaching Improvisation
Middle ground; reading jazz fake books
Posted by Ted at 1:50 PM

February 2, 2012 | D'Addario Strings. American manufacturing.
Other than picks, strings are one of the least expensive investments you can make to change the sound of your instrument. We may not be aware of it, but we really live in a Golden Age of string manufacturing, resources plentiful and supply relatively inexpensive on the retail end. It's not easy though, making strings strings in quantity and with 100% perfection, but some companies have been able to produce with an exemplary track record.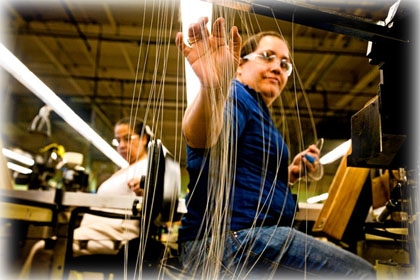 With our North American bias, we're also partial to products that can be produced in the United States by American manufacturing, thus maintaining jobs for US workers. D'Addario Strings has been in the forefront of keeping these jobs here, not only with producing strings, but straps, reeds, and drumheads, as well through smart, efficient programs and policies. These products are sold in 5400 stores in more than 120 countries.
The following CNN video explains as they interview CEO Jim D'Addario:
Video link: CNN Talks with Jim D'Addario About US Manufacturing Jobs
Further:
The origin of a new string: D'addario FW74
Build your own flatwound string sets
Mike Marshall Videos at D'Addario Media Library
Flatwound string project: Mandola/Octave Mandolin
Posted by Ted at 1:56 PM