« Lydian spice | Main

July 2, 2015 | An object in motion?
Did you ever try to move the steering wheel on a parked car? Even when the column is unlocked it's a struggle to turn, and it's a simple matter of physics. When you're cruising on the highway at 60 mph you can turn with your fingertips, because an object in motion is easier to steer than one standing still. You can do this with a bowling ball, lawn mower, or shopping cart; the physics are the same in that with the injection of forward motion, turning is effectively easier.
This principle is also a metaphor for much we tackle in life, including improvising. So many musicians are intimidated by the notion of playing freely in front of others, following the "proper" theoretical rules. This can be a barrier to an incredible aesthetic experience, so we encourage you to put yourself in non-threatening ensemble environments and experiment boldly.
Just blow!
Solo. Of course you can play alone, and this is generally the first setp to exploring improvisation. However, it pales in comparison to the musical commune experience of sharing ideas, the proverbial iron sharpening iron, and it's always better to actually hear the harmonic construction of the music in real time.
Jam Tracks. Technology is great and in the 70's we cranked up the turntables with our "Music Minus One" series in school band and the Aebersold LP records. Following the evolution of technology, we played along with background tapes and CDs, and lately the MP3 format has opened a whole new convenient world of accompaniment resources. Even MIDI based interactive software like Band in a Box or our personal favorite app for iPad & Droid (also Mac OS) iReal Pro with their additional alternatives in tempos and key changes at the tap of a screen can offer a whole new level of pedagogical experience.
An object in motion...
Jam with a Buddy. Learning with someone of your own ability offers you both the benefit of interactivity without the intimidation of a glaring audience. It's something you share and grow together.
Jam with a Mentor. One musician said he has a rule of selecting to only play with musicians better than himself. It might be a tad unrealistic (especially if they are on the same quest--they won't play with you), but take advantage of those rare moments you can hang with a pro.
The point is you can't learn to ride a bike until you get on the bike. Fracks and clams won't hurt you as badly as gravity, so make yourself vulnerable, and put yourself in one of the above situations to maximize your improvisation skill.
---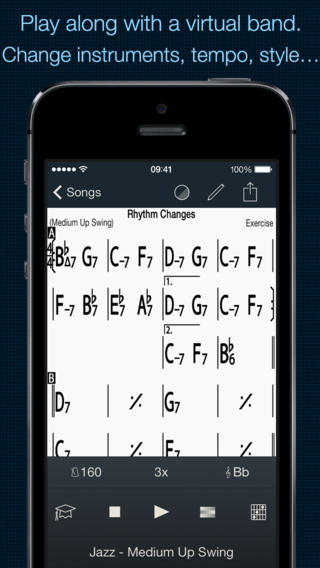 View Video: iReal Pro for iPhone and iPad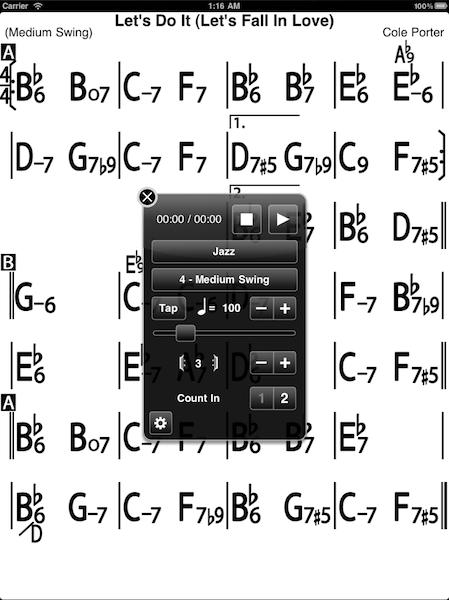 Visit iReal Book Website.
Purchase on iTunes.
Posted by Ted at July 2, 2015 10:51 AM