« Best of JM: Pick propulsion | Main | Maximizing the "E" Zone »

May 21, 2015 | Don Stiernberg on chord voicings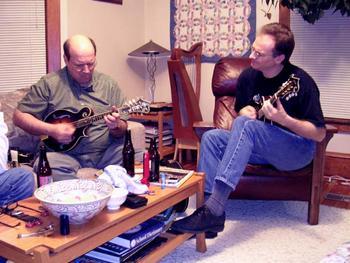 Don Stiernberg & Scott Tichenor, late night jam
Five years ago, jazz mandolin royalty Don Stiernberg offered some pearls of wisdom in the Mandolin Cafe resource pages in a personal interview. One of the questions asked had to do with rooted voicings vs. rootless on the mandolin, and what contexts would determine the choice between the two. For example, how "modern" did he want his jazz playing to sound?
Don Stiernberg:
Of course the bluegrass or Bill Monroe voicings have roots in them, sometimes two! And that's how that style should sound, as you know. The repeated notes and lack of color tones yield a more percussive sound that the ensemble needs. Once in awhile I'll sneak in a rootless chord, a sixth chord like G6 fingered 4-2-5. Other modern bluegrass players do this too, I notice, mostly as punctuation at the end of a phrase.
In jazz playing the root chord can be expressed as a Maj6, Maj7, or just plain major. I'll avoid roots there too, since that's what the bass or guitar or piano might play, and the additional color tones (6, 9, 13, etc.) fit the style and "widen out" the sound of the band. Looking at the common denominator progression, ii7-V7-I, I usually play the minor chord straight, with a root, maybe adding a ninth if anything. So if the chart says Am7, I just play Am! Not sure why, I just hear the cadences better that way I guess. Similarly, the dominant chord usually contains a root too, but I'll freely add tensions or color tones. So D7 would have the D in it, but perhaps be replaced by a b9 or #9, or have a #5 or b5 or 13 added.
Now the "tough" question! Certainly the aspiration is to be as modern as possible, in terms of being able to improvise and have something to say in any harmonic situation or groove. The reality though is, I've got my hands full trying to cope with major and minor ii-V-Is, connecting chords, and a few very basic chord substitutions. Some of my improvisational heroes seem to be able to play cool melodies, inside or outside, over ANY type of progression. I'm thinking now of George Benson, Mike Stern, Toots Thielemans. I'd like to have that type of vocabulary and flexibility, but... hey, I'd like to play for the Cubs too!
Also, this question could be answered various ways depending on what constitutes "modern." Certainly some of the things Bix Beiderbecke or Louis Armstrong did in the '20s are as modern as anything that came since. Wes Montgomery's concepts were modern, many unique to him, others assimilation of Parker or Coltrane ideas. But as fresh as his work sounds, he unfortunately left us in 1968. Is that modern? Thinking that way, I seem to be drawn most to jazz styles up to about the 1950's I guess--Swing, Bebop, and the like. The modal things, Coltrane changes, and post modern things don't come as naturally to me, but again, I'd like to become more conversant in all the concepts and have them at the ready. I really like playing tunes with lots of changes and trying to make connected melody lines: standards, Bop heads, Latin things, even pop tunes from my time. But the concepts for improv that I apply to these were probably all worked out by Charlie Parker time in the late 1940s.
Read whole article: The Don Stiernberg Interview
Purchase: Jazz Mandolin Appetizers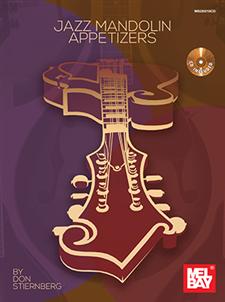 Posted by Ted at May 21, 2015 7:41 PM