« Use neuroscience to impact your playing? | Main | Best of JM: Pick propulsion »

May 7, 2015 | Mandolin Set-up E-Book by Rob Meldrum
The whole DIY (Do it Yourself) mode is not something we wholeheartedly embrace. Leaving things into the hands of the trained professional is not necessarily lazy, and it more often yields better results. That said, there's still something to understanding how things work, so you can assure they can continue to work. You may not be one to change the oil in your car, but knowing the basics of what the components of the engine are, what oil does for them and why frequent changes are critical can be the difference of years in the life of an automobile.
We feel the same about the mandolin. Never one to tinker, it still is a good investment in the upkeep and optimum performance to know what it is that makes a bridge intonate properly, what causes fret buzz, what an adjustable truss rod can do to address seasonal changes, what tweaks can (and can't) be made with an adjustable bridge, and a myriad of tiny tricks with pencil lead, vaseline, and painters tape.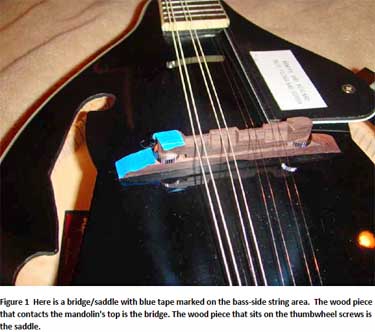 Several years ago, Pacific Northwest based Robert Meldrum started to document his own personal journey in understanding these basics of mandolin set-up, and it paid off for him in playing enjoyment, let alone shop set-up charges, although the hobbyist is the first to admit the hands-on approach can be the preferred option for those who'd rather not tinker. He's created an ebook that he's given freely to the mandolin world, and we've had a chance to look through it and glean some keen insights.
Again, the book doesn't replace a good repair tech. He's posted a couple YouTube videos that demonstrate an extreme--taking a $50 import and making it somewhat playable. Frankly, there's not a lot of risk in that level of quality, but with some attention you can often get an okay starter.
The book is available in PDF format (electronic) by contacting him directly. Send an email to rob.meldrum at gmail dot com (use proper format, not bot protected) with "mandolin setup" in the subject line and he will mail the link.
Meantime, check out his two related videos:
View Video: Black Rogue Mandolin Before Set Up

View Video: After Set Up, Rogue Black Mandolin


Posted by Ted at May 7, 2015 2:53 PM