« Zak Borden Mandolin Lesson: Beginning Improv. 1 | Main | Sustaining Principles. »

April 9, 2015 | Major 7th & Minor 7th Arpeggios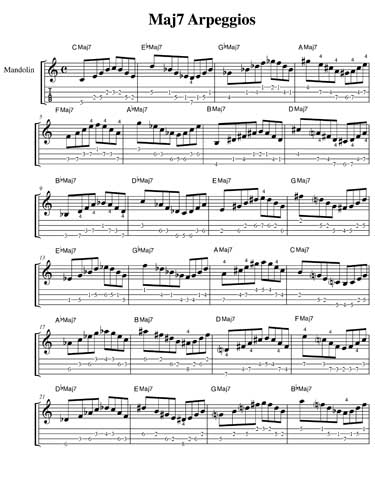 Knowledge of the chord tones both intellectual and tactile can be one of the best ways for your improvisation to make sense. Scales, both pentatonic and modal are great for producing smooth linear phrases, but once in a while you want to jump around, and if you're fingers can find the chords better than your brain, your soloing can reflect the harmonic identity of the song.
Best way to get this skill? Learn your arpeggios in all 12 keys. Remember though, with FFcP, there's only four ways to finger these. Taking our approach can super charge your development of subliminal chord awareness.
We give you drills for two 7th chord forms, Major and Minor.
Download PDFs:


Maj7 Arpeggios


Min7 Arpeggios
Posted by Ted at April 9, 2015 8:28 PM