« Vamps summary. How to amaze and impress your friends. | Main | 3 string major triads with Don Julin »

October 2, 2014 | Improvisation is conversation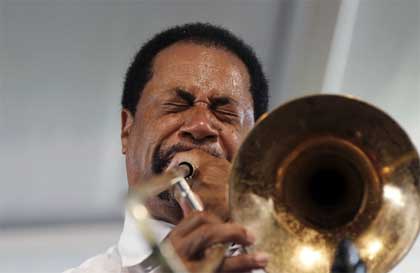 We always enjoy articles on the science of music and how it affects the physical realm. A February 2012 Atlantic article "How Brains See Music as Language" addresses the nature of the impact of jazz, particularly improvisation, and the similar response of language--conversation with words.
From the the report, "What researchers found: The brains of jazz musicians who are engaged with other musicians in spontaneous improvisation show robust activation in the same brain areas traditionally associated with spoken language and syntax. In other words, improvisational jazz conversations 'take root in the brain as a language,' Limb said.
'It makes perfect sense,' said Ken Schaphorst, chair of the Jazz Studies Department at the New England Conservatory in Boston. 'I improvise with words all the tim--like I am right now--and jazz improvisation is really identical in terms of the way it feels. Though it's difficult to get to the point where you're comfortable enough with music as a language where you can speak freely.'"
The best aesthetic experience is when players lock in to each other in dialogue.
Read article: How Brains See Music as Language
Further:
Charles Limb: Building the musical muscle/
The Jazz Brain; Improv
Numbers.
Fingers, Ears, Brain
Artist phrasing
Posted by Ted at October 2, 2014 3:18 PM