« Best of JM: Fretboard Geometry | Main | Vamps summary. How to amaze and impress your friends. »

September 18, 2014 | Passing Chords. Fill in the gaps.
You're probably familiar with passing notes or passing "tones." These are the notes that connect the important chord relevant tones in a melody. They aren't part of the chord, but they give a linear dimension, creating melody. You can do the same thing with chords, though.
We've written about this before, how you can take static measures of chords, say an AbMaj7 for two measures, and color them with passing chords. Instead of two measures, eight beats of Ab, you follow two beats of AbMaj7 with two of Bbm7, two Cm7, and two DbMaj7. It supports the tonal center of Ab, but injects progression, motion if you will.
You can move this pattern up the fretboard based on roots and create a whole new approach to your comping. Learn several more simple inversions and you can be a master of motion in your comping.
We covered this in a October 2006 Mandolin Sessions article. If you'd like to add a few more of these to your arsenal, check the article out: Chords in Passing; Exploring Diatonic Chord Progressions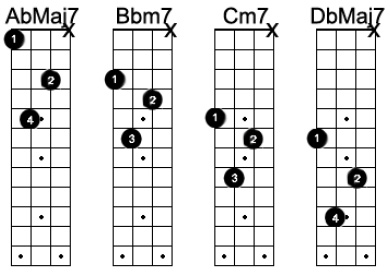 Further
Fitting in with triads
Creating energy with Diatonic triads.
Static Changes: V7 chords
More Three-note chords to supercharge your comping
Posted by Ted at September 18, 2014 3:33 PM