« The esoteric Minor Scale | Main | Best of JM: Complexity leads to simplicity »

January 30, 2014 | Jason Anick on effective soloing
We had the opportunity to discuss with young Berklee string legend and John Jorgensen sideman, Jason Anick in a previous interview, the significance of music theory in soloing. The following is an excerpt of one of the Mandolin Cafe questions:
Ted Eschliman. I've asked the question of you in the April 2012 Mandolin Sessions finale about your approach to improvising, constructing good solos, and you mentioned the "equilibrium of intention and spontaneity." What do your credit your own understanding of the jazz language in chord structure, phrasing, swing, and feel? How much of what you plays is scales and arpeggios vs. just "blowing?"
Jason Anick. I have spent many years studying and dissecting classic solos from jazz greats like Charlie Parker, Sonny Stitt, John Coltrane, and Stephane Grappelli. The first thing I listen for and try to emulate is their feel. Then I study their harmony and try to understand what sounds good over the chord changes and why. With each solo I learn, I increase my musical toolbox and continue to form my own musical voice.
I supplement transcribing and listening with frequent scale and arpeggio studies. My goal is to learn all the modes, arpeggio inversions, and chords up the neck in what I call "mapping out the fretboard." All the notes are there, you just have to find and develop a relationship with them. I am always looking to discover new ways of approaching chords and harmony.
When I am improvising, I try not to think too much and instead let my inner inspiration and musical ear take over in hopes of constructing a cohesive musical statement. There are moments when I even surprise myself with what I improvise, and that makes it all worthwhile. The way I see it is the more thinking you do in the practice room, the less you have to do when you are on stage.
Read the rest of the interview: 10 Questions For Jason Anick
Read about Jason's February 2014 CD release: Jason Anick; Tipping Point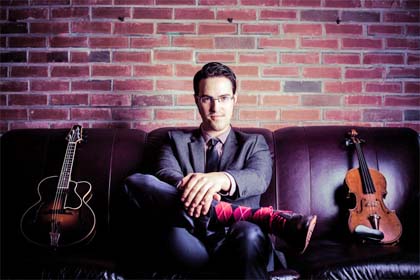 Further:
Compose yourself. Story Arcs
Compose yourself. Antecedent/Consequent thinking
Don Stiernberg on the "Big Picture" of improvising
Intentional Improvisation
More Appropriate
Posted by Ted at January 30, 2014 11:30 AM