« Tim O'Brien on mandolin warmup exercises | Main | Best of JM: Sneaking Theory »

October 17, 2013 | Mandolin Family Specs
Once you get outside of the sizes of a standard mandolin body and its scale (generally within 1/4" of 14"), things can get confusing as to how big a mandola, octave, and mandocello should be. It can be most annoying when shopping for string sizes or determining tensions for a custom gauge set of strings.
It really gets dicey when you compare European and North American terminology for what a mandola and octave vs. a tenor or alto mandola might be. Throw in the individual cottage builder experimentation, and you'll find quite a variety of size variation, and sometimes even tuning. Many players even experiment with using octave pairs on the wound strings.
Nothing says you can't experiment, but we'd like to propose one source as a "go-to" standard for sizing. Because Bruce Weber and crew has done such a masterful, prolific job of delivering a wide range of mandolin family instruments domestically and around the world, we'll use his page as a good reference.
Click on the image below to get to the Weber Mandolin Measurements page for more detail.
Website: Mandolin Family Specs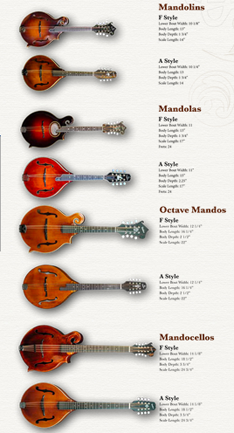 As we mentioned, the variation gets broader the bigger the instrument. We tend toward the smaller body scales, 16" vs 17" on mandola, but this is all personal preference. Anything larger than that requires a different approach than the FFcP system for closed pattern scales and chords. Factor in hand size and music style as well. Plus you can sacrifice some volume with the smaller size variation.
Posted by Ted at October 17, 2013 9:09 AM