« Voice-leading swing chords and extensions with Brian Oberlin | Main | Major 'ii7 V7 I' 3-note Mandolin Chord Blocks »

February 14, 2013 | Bebop Style Chromatic Approach Notes
We recently had the unique privilege publishing an interview with Seattle mandolin/fiddler Pete Martin on the Mandolin Cafe website. We've already introduced some of his materials here, and have been a huge fan of his writing (and playing) for years, including a regular column at Mandolin Magazine. We've invited him to weigh in with some of his lesson materials, so expect similar helpful instruction throughout the year.
If you haven't already purchased one of his books, now's a good time to start. If you'd be interested in personal Skype lessons, contact him for more information on that, too!
---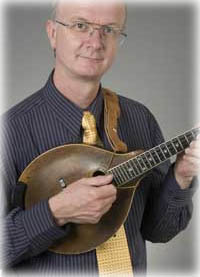 Bebop Style Chromatic Approach Notes
Pete Martin
One of the differences in Swing and Bebop era improvisation is how the player uses chord tones and how they approach these chord tones. If you are a swing player and want to 'modernize" your sound, here is one way to updated your soloing.
Example 1 is a typical swing line that uses a lot of notes of the chord. The notes of the G Major 7th chord are G B D and F#. We see all of these notes in a syncopated rhythm in the line in example 1.

Bebop players use "target notes" (usually chord tones) and approach these targets chromatically and by using "surrounds" (playing notes above and below before the target).
To see the difference, now play Example 2.

In example 2 the first target is the note B (the 3rd of a G Major 7th chord). We start above the target by going down the scale, then "surround" the target by going under it to A, then playing upward chromatically (D, C, A, Bb, then the target B).
The next target note is G. The previous target note, B, is the first note of the next approach and surround. B, then under the target to F#, then back above the target to A, then chromatically descending to the target G (B, F#, A, Ab and then the target G).
The last target note is B. This line surrounds the target by preceding it one scale note below (A) and one scale note above (C) before the target (B).
You will find this type of playing in the lines of Charlie Parker, Dizzy Gillespie and especially in the playing of Clifford Brown, who probably took this idea farther than anyone else.
Add these surrounds and chromatic approaches into your playing and see how much jazzier your playing sounds. Anyone interested in further study of this topic can look at my book "Bebop Mandolin: Target Notes and Chromatic Approaches". You can download it free at my web site, www.petimarpress.com
Read article: The Pete Martin Interview
Petimar Press Books and Materials
Posted by Ted at February 14, 2013 5:25 AM