« Best of JM: The road to harmonic sophistication | Main | Bebop Style Chromatic Approach Notes »

February 7, 2013 | Voice-leading swing chords and extensions with Brian Oberlin
For this week's Tips and Tricks article, we have a special treat. We've asked guest columnist and Oregon clinician, Brian Oberlin to weigh in periodically with some of his pearls of wisdom this year. In addition to his Pacific Northwest teaching and playing schedule, Brian coordinates the prestigious River of the West Mandolin Camp, one of the finest mandolin workshops in the world. We look forward to more in the future!

Voice-leading swing chords and extensions; Brian Oberlin
Download song (two pages): Carbondale PDF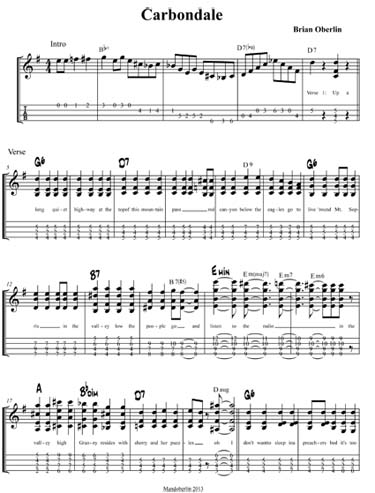 Audio link:

Carbondale MP3
"Carbondale" is a swing song I wrote in 2004 while on tour in Colorado and the chord progression is pretty standard as most early swing music goes. For me, the interesting parts of this song are the lyrics and the chords, and this chart explains the rigors of playing swing mandolin accompaniment. One listen to this song (which is posted on my website), and you will hear the "Stay All Night" feeling I tried to achieve.
There are many different types of inversions and chord extensions in this transcription; too many to notate, in fact, so I have listed the "bare bones" chords in bigger text while a portion of the extended chords are notated in smaller text. In swing, it is very common to approach a chord from a half-step below. It adds a lilt to the rhythm and sounds like you're working a lot harder than you actually are. This can be seen in beat 4 of measure 8: the half-step slide into a D7.
The pinky plays a major role in creating chord extensions as in measures 9, 14, 19, 21, 23, 25, 28, 31, and 33. These chords (9, 13 and #5) are easily played with the pinkie and, again, make it sound like you're working hard.
I am a big fan of descending lines over the same chord, and you can see this in measures 10, 15, 16, 25, and 26. You will need to switch your fingers around to achieve these voice-leading passages. This chart is typical of what I might play during one of the verses. For the other two verses, I will take a different route rhythmically and/or create different motifs within the progression as in measures 21-24.
Any questions or for the other verses, please email me. - Brian Oberlin
www.mandoberlin.com
Camp information: 2013 River of the West Mandolin Camp
June 6 - 9, 2013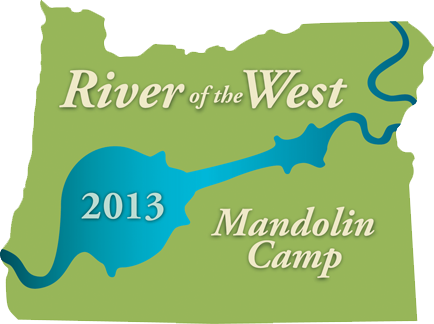 Columbia River Gorge, 20 miles east of Portland, Oregon
Posted by Ted at February 7, 2013 6:16 AM