« Tips on improvising from the Pros; Michael Lampert | Main | 'I vi ii7 V7' 3-note chord blocks »

January 10, 2013 | Mike Marshall School of Mandolin Review; James Condino
We've had the privilege of publishing some of the thoughts of North Carolina builder and educator James Condino several times in the past. The legendary craftsman recently had the opportunity to work with some of the video lessons out of the AritistWorks series, and we asked him to report on his personal experience.
Video Link: Behind the Scenes: School of Mandolin with Mike Marshall

The following are James' insights.
Mike Marshall School of Mandolin Review
James Condino
I do a lot of writing and teaching although most of it is oriented towards wood, the Dalbergia Nigra vs. D. Melanoxia/Red spruce vs. Carpathian recurve thicknesses luthier nerdiness. I've also had a LOT of music teachers over the years, perhaps 30-40 different ones. Unfortunately, I can count about three of them that really made a difference to me. After spending some time with Mike Marshall's Academy of Mandolin, I'm compelled to let everyone know what a fantastic resource this is. It is the most comprehensive mandolin instruction format that I've ever seen.
A lot of pros have great chops. A lot of them are good teachers; some of them are fun to hang out with. Mike Marshall possesses the rare quality of having all of these traits. The people have captured it in a candid, comfortable way, more like laughing and picking with one of your buddies than a lesson plan, but the results are effective.
Here is how it works: there is a big list of lessons, divided into several categories based upon your skill level. You select a tune, Mike goes over how he plays it, offers several variations, and the ArtistWorks Jedis do magic with a camera with things like split screens, left and right hand close-ups, and the same tunes at a number of speeds. There are also practice tracks where Mike plays guitar, and you can practice the leads along with him in short lessons, approximately 5-8 minutes each. You get to focus on what is important, go over it a couple of times, and then move on. Time for me is critical these days--I can get a lot out of a lunch break session--enough to learn a whole new tune.
The structured lessons are great--they also tend overall to be in the more traditional bluegrass tune areas, so a lot of people overlook the jazz side of Mike's instruction. The hidden gem of the whole series is in Mike's responses to student videos. Traditional folks have a lot of ways to learn Salt Creek note for note, but it is not very often that you get a candid session with someone of Mike's caliber trying to crack the jazz language nut. Any student with questions or struggling through a tune can film themselves and Mike will respond to your video and then "Marshall-ize" his interpretation of the tune, though video responses aren't shot in the elaborate ArtistWorks production studio.
ArtistWorks is loaded with inspiration and new ideas for a variety of levels. As someone who plays a lot of different genres, I was continually impressed with how I'd be looking at a classic like Salt Creek, and get sidetracked by something like the second video response for beginners. Mike jumps right into the heart of jazz with his breakdown of how a student is struggling with Ornithology. I like Mike's emphasis on the difference between a series of separate phrases vs. a swinging groove. The rhythm section needs to groovet (that is fundamental),then the melody can come in and add sweetness and spice.
A bonus for the student video responses is that often Mike does not know the tune. Rather than improvising something on the fly, he actually pulls out a Realbook (Fakebook) and sight reads through the whole piece. For someone like me who uses those books and charts every week at gigs, it was very helpful to see his spontaneous interpretation off the charts--the accents, minimalist chord interpretations, and that constant, rock solid groove.
The three video breakdowns on the chord voicings and substitutions for the classic Grisman Quintet tune "EMD" are some of the best technical breakdown of a mandolin song I've ever seen. Not just the changes and ditty, but some 20 different chord substitutions and an excellent explanation of what Mike is thinking and where he is trying to go with the melody.
Things are continually being added and updated. Here are some of the current highlights for the jazz player:
How High the Moon
Take Five (It's all about the groove!)
All of Me (especially the G7 vamp ideas responses to the ryanallofme student video)
Black Orpheus
Russian Lullaby
Working with the Circle of Fifths
In the performance section, there is a beautiful duet of Autumn Leaves with Mike and Don Steirnberg, along with a David Grisman and Tony Trishka video performance.
This is the single best learning opportunity for mandolin players in one package that I know of, all in the comfort of your own home, and for less than what I pay for one string on my bass. I recognize that it is a monumental task to pull this all together.
View this amazing video performance: ArtistWorks Stiernberg/Marshall: Autumn Leaves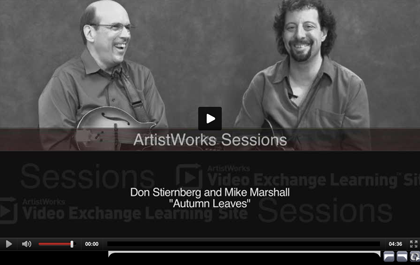 Reviewer's website: James Condino
Posted by Ted at January 10, 2013 5:25 AM