« Best of JM: The virtues of sustain | Main | Mandolin considerations. Jazz vs. Bluegrass »

November 29, 2012 | From John McGann: Jazz Improvisation
We loved working with John McGann. As recent as this last spring, if you would have said we'd be conveying the Boston area music legend's expertise posthumously now, we couldn't have dreamed it would be true. Fortunately for the mandolin world, he left a well-documented legacy of information and tips from his decades of professional playing and private teaching experiences. We hope to revisit this periodically. His generous educational contributions will live on as we dig in. Enjoy the following article on jazz improvisation from his still active website.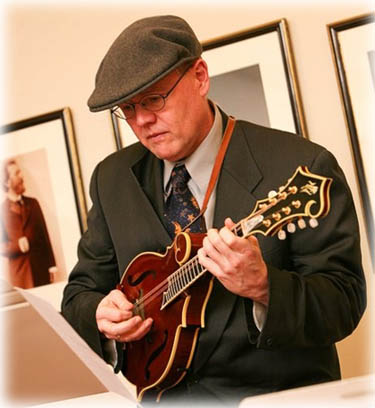 Jazz Improvisation; John McGann
As with any musical style, the word 'Jazz' really covers an huge stylistic area. Dixieland, Swing, Bebop, Modal, Fusion are all welded together under the 'jazz' heading, but each area has it's own practices and stylistic tendencies.Getting to know and understand the differences in this huge area of music is a lot of fun. Understand that each instrument has it's own rich tradition; and it is important to expose your mind to players of all instruments, not just your chosen one.
Learning to improvise in jazz is best begun with the common area shared by jazz, rock and roll, and country/bluegrass- which is "the blues." Learning the forms and chord changes usually encountered is a first step in getting a feel for improvisation.
Understanding chord/melody relationships is key to being able to develop coherent melodies that connect 'through the changes.' Knowing the notes available is like laying paints out on a palette- when you see what you have to work with, you can more easily apply the tools.
Listening and learning the vocabulary through transcriptions (or, transcribing the music yourself) are the only ways to really develop your language skills in an idiom.You can understand the chord/melody relationships, but have no sense of phrasing or how to put ideas together. Memorizing a solo so you can sing along with it, which will happen naturally the more you listen, is a good way to internalize the music.
If you are grounded in the fundamentals of harmony (knowing how basic triads are built, what the notes are ( i.e. D major= D F# A, 1 3 5), you can understand the concepts of extended harmony more easily ( i.e. Dm7b5/11= D F Ab C G, 1 b3 b5 b7 11). These choices affect the kind of lines you play, because the melodic material is dictated to a large extent by the harmony (chord) of the moment.
A good practice technique is to set your metronome to click on beats 2 and 4, and record a rhythm track. You can play it back and practice soloing. This allows you to have long explorations on a single chord, a good technique to learn a new sound.You can record 'just the hard parts' and practice them as a loop, or you can record entire tunes and practice playing through them.
Jamey Aebersold's series of music-minus-one type recordings are a fantastic source of practice material; they are top notch rhythm sections playing through tunes with you starring as the soloist. This is also a good source for educational materials for all levels of playing.

Link: Jamey Aebersold
Further
Remembering John McGann
Right hand considerations for flatpicking--John McGann
10 Questions for John McGann
Fitting in with triads
Posted by Ted at November 29, 2012 6:19 AM