« Best of JM: Whole(some) notes | Main | Chip Booth on music over time »

August 9, 2012 | Closing in on Bluesette
Last month we looked at the chord structure of the jazz classic Autumn Leaves, trimming the chord structure to a manageable packet of two FFcP patterns in the "follow up article. Hopefully you made the mental connection between months of drilling the FFcP Studies and their benefits improvising in the context of an actual tune. Using the built-in 'I vi7 ii7 V7', the 3rds and 4ths interval sequences, and the gravity note motifs of the FFcP approach is where the rubber meets the road.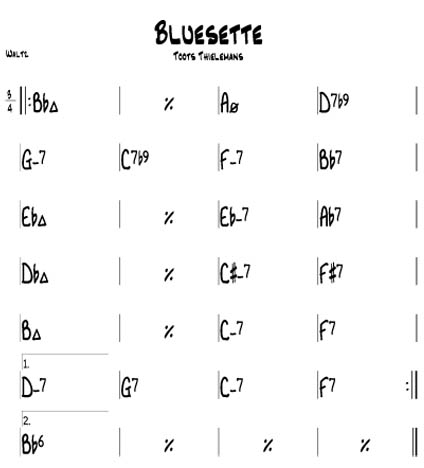 Let's go a step further, moving four patterns up the neck in Toots Thielemans favorite, "Bluesette." This modified 12 bar blues journeys into four bite size tonal areas (some minor detours with some secondary dominants and turnarounds if you're keeping track, but let's not make it complicated). We've shaded these in colors, the home key of Bb in blue, brief detours in Eb (pink) and Db (green) and the enharmonic equivalents B/Cb (yellow).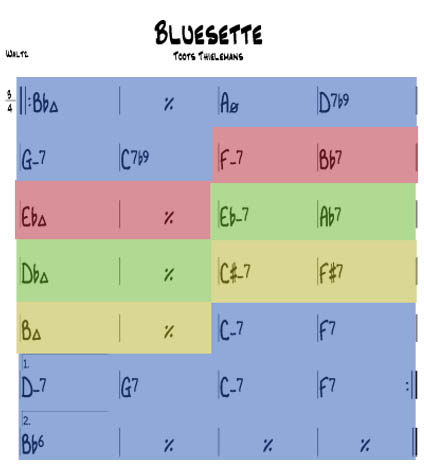 Violinists think in positions, and though Bb and Db aren't exactly their favorite keys, they might conceive of doing these in two positions we'll call 2nd position (1st finger references 3rd fret) and 3rd position position (1st finger references 5th fret). Take a look at how these might play out in a one octave FFcP pattern. Feel free to take the time to run through them with all the variations. Extend them up the next octave and try some pentatonics while you're at it, Bb, Eb, Db, B/Cb.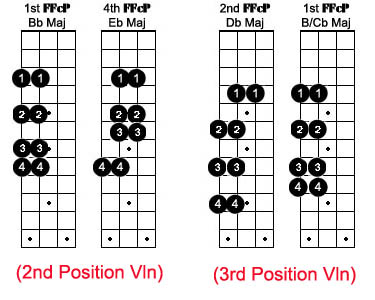 Keep in mind, we're suggesting four FFcP patterns, but you're really only referencing two positions. In other words, you'd start with your 1st finger in the 3rd fret, hold the position through the next FFcP, and you'd move everything up two frets for the next pair (1st finger on the 5th fret).
Here's a chart of how they'd layout during the song: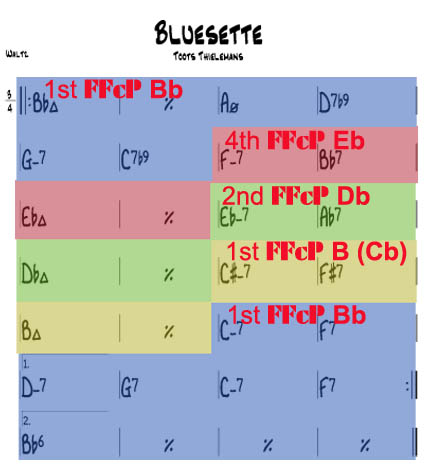 Remember this is a jumping off point. The point is to liberate you from the open positions (1st position) and challenge you up the neck a bit. Eventually you'll want to use more positions, expand up the neck further, and inject chord substitutions. What you'll find though, is once you start taking the training wheel of the bike, you'll be more inclined to ride up the fretboard.
In safety!
Ralph Patt Backing track:

Bluesette
Further
Autumn Leaves Pt. 1
Autumn Leaves Pt. 2
Improvisation Techniques
FFcP vs Traditional Violin Positions Fingering
Left hand hover
Posted by Ted at August 9, 2012 7:18 AM