« Tips on improvising from the Pros; David Grisman, Mike Marshall | Main | Best of JM: Whole(some) notes »

July 26, 2012 | Jazz like you speak
We've mentioned the analogy of the use of vocabularies in discussing improvisation before, but legendary east coast multi-instrumentalist Aaron Weinstein does a magnificent job outlining this concept in this 90 second video excerpt from the Jacob Burns Film Center's "Jazz Sessions" last month. It really is a poignant concept in so many ways.
Video link: Aaron Weinstein Explains Jazz Improvisation in 90 Seconds

Musician's don't pull things out of the air. We create conversations using words embedded deep in our subconscious using rules we learned at a very young age. We play with crossword puzzles to develop our vocabulary just as we learn new chords and flex them in a jam session. We (mentally) play "Wheel of Fortune" filling in missing words in sentences for prizes when we reprise licks from the treasure chest other musicians. We check the Thesaurus for that better word like we drill a new arpeggio for a more impressive melodic motif.
We vaguely recall learning "subject, predicate, noun, verb, preposition" and the proper rules of speaking or writing in sentences. In elementary school, we got hung up on these rules, only because we hadn't yet developed these skills. Now we hardly consider the terms, but we engage them every day. Maybe we question whether or not a participle is dangling, just as we contemplate a m7b5 chord that doesn't progress to a V7. Still, we need to perfect the craft with the goal that the capacity can and ultimately will be intuitive.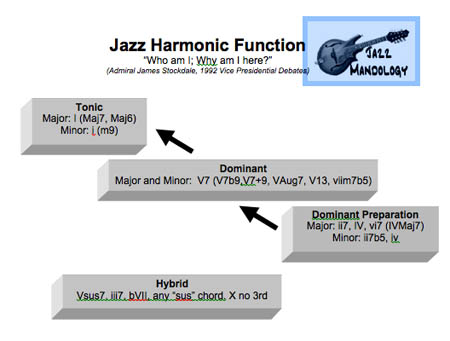 Further:
Thin-slicing and Music Theory
Building a solo
Going beyond "playing."
Don Stiernberg on the "Big Picture" of improvising
Improvisation Techniques
Posted by Ted at July 26, 2012 11:40 AM