« Raking it in. Autumn Leaves Pt. 2 | Main | Jazz like you speak »

July 19, 2012 | Tips on improvising from the Pros; David Grisman, Mike Marshall
In our April Mandolin Sessions finale, we asked a dozen of some of the industry's high profile players about their take on the creative process. Objective vs. subjective, cerebral vs. intuitive, planned vs. spontaneous, established harmonic language vs. muse, all are ends of a continuum of approaches on how to successfully improvise. This week, we'll look at Bay Area mandolin dynamos David Grisman and Mike Marshall for their take.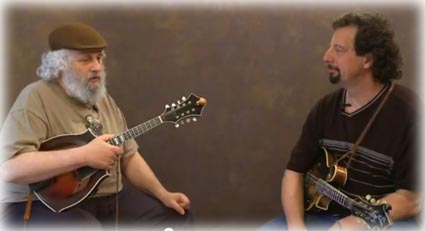 David Grisman
Music is an amazing language. After much study and experience, 'improvising' musicians learn to use this language spontaneously, much as we use everyday speech. The most important thing is to have something to say-- a purpose, such as:
a) Serve and respect the song or piece of music you're playing.
b) Convey emotion -- play with feeling.
c) Don't overstep your musical bounds (play what you can execute;)
d) LISTEN! If you can do all of this, then express YOURSELF! Also remember that having a large vocabulary doesn't necessarily make one a poet or even a good story teller."
(Of course, we're all aware of the Dawg's multi-decade genre generating discography and his label "Acoustic Disc" & AcousticOasis.com where they will soon be issuing High Definition Downloads of previously unreleased Garcia/Grisman material, David's Warner Brothers projects and a new series of Dawg Studios jam sessions featuring Grisman with the Del McCoury band, John Hartford, and guitarists Martin Taylor and Frank Vignola.)
.........
Mike Marshall
I think it's about balancing the two concepts of course. Dionysos vs. Apollo... It's the balance between madnessand order. Right?
Both emotions need to be fully engaged while doing any creative act. Isn't that what they say? We must study, study, study, practice, practice, practice, think, think, think. And then-throw ALL that stuff away and just PLAY. Fly off into the wilderness of our own imagination. Dream up anything we wish at that moment and just see what might happen. That joyful expression of how much we love our friends, our family, our life, the sound of the music!
No? Isn't that it?
But always fully aware, engaged, lit up. With our ears, eyes, hearts and minds alert to what might be coming at us. Responding in milliseconds to each nuance of tonal shift, rhythmic inflection, dynamic hint or creative impulse that the persons around us might be suggesting or that we might wish to see happen.
Hard? Yes. But at times... oh so natural. Oh so easy. Logical.
Is this elusive? Yes. Maybe that's what keeps us coming back.... and back... and back.
(Bay area based Mike, in addition to being one of the most stylistically versatile mandolinists on the planet, continues to tour the world, teach at clinics, and produce educational materials that can revolutionize your playing.)
Video Link: Mandolin Symposium with Mike Marshall and David Grisman (promo)

Posted by Ted at July 19, 2012 11:44 AM