« Why is an E# not just an F? | Main | Complexity leads to simplicity »

May 17, 2012 | Tips on improvising from the Pros; Jason Anick
In our April Mandolin Sessions finale, we asked a dozen of some of the industry's high profile players about their take on the creative process. Objective vs. subjective, cerebral vs. intuitive, planned vs. spontaneous, established harmonic language vs. muse, all are ends of a continuum of approaches on how to successfully improvise. This week, we'll look at John Jorgenson swing violinist sideman and talented mandolinist Jason Anick for his take.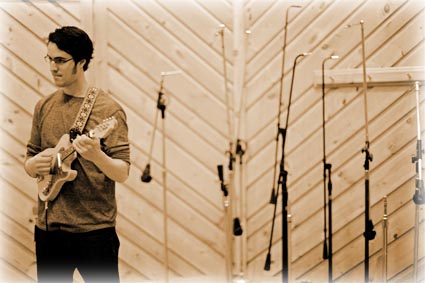 Jason Anick
The idea of being in the moment and unique is what drew me to jazz/improvised music, so my ultimate goal is to always live by those principles when I perform. At the same time I always strive to perform with intention and purpose so that I can construct interesting and meaningful solos. In order to achieve this equilibrium of intention and spontaneity takes a lot of practice both learning and understanding the jazz language and the ability to let go and let your ear and creative side take over while performing. A big part of learning the jazz language for me involved constantly listening to the greats and really dissecting how they approach chord changes, phrasing, and swing rhythm and feel. The deeper my understanding gets, the more I am able to let go and let my creative side take over in hopes of constantly surprising even myself when I improvise.
Online jazz mandolin lessons - Jason Anick

Artist Bio (from JasonAnick.com):
26 year old virtuoso Jason Anick is a Boston-based performer, composer, and Berklee College of Music Instructor, who is rapidly making a name for himself in the world of jazz violin and mandolin. In 2007 he won top honors for improvisation in the ATSA Alternative Styles competition and performed with the Robin Nolan Trio at the Montreal Jazz Festival. In 2008, while still a senior at the prestigious Hartt Conservatory, Jason began touring both nationally and internationally with Grammy award-winning Nashville guitar virtuoso John Jorgenson. He went on to record on Jorgenson's latest CD "One Stolen Night", which was named one of the top 10 albums of 2010 by the LA Times and Acoustic Guitar Magazine. 2011 marks the release of Jason's debut solo album "Sleepless", which was cited by jazzmando.com as "...a must have for any jazz violin/mandolin fans".

Posted by Ted at May 17, 2012 12:53 PM