« Best of JM: Enemies of Sustain | Main | Tenor banjo and chord melody »

April 5, 2012 | Best of JM: World Dominants
Enjoy the popular archive material below.
From February 28, 2011 | World Dominants"

---
We hope you've been able to keep up with this. Our recent Tips and Tricks entry is the second of a three part series on mandolin 3-note fingerings of the V7 chord. What's great about this is how comprehensive this is in tapping the potential of the crucial component of the Tonal Universe up and down the fretboard. The first week we looked at the four blocks (yes, that's it! Only four to learn!). The second installment covered how we can smoothly progress from one to the next in a Circle of Fifths progression.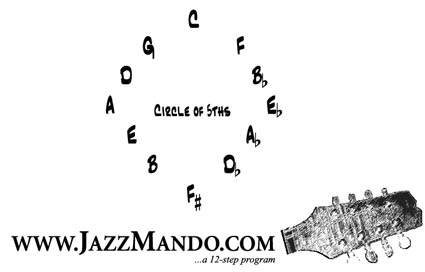 We can't stress enough how crucial these fingerings are, let alone how competent familiarity can inject intuitive freshness into your comping. Next week we'll look at the passing chords you can inject between, in order to get even more fluidity into your background accompanying.
Read Articles:
3-note Chord Dominants; Part 1 (Inversions)
3-note Chord Dominants; Part 2 (Circle of Fifths)




Posted by Ted at April 5, 2012 4:16 AM