« The Muse Continuum. Improvisation and Inspiration. | Main | Best of JM: World Dominants »

March 29, 2012 | Best of JM: Enemies of Sustain
Enjoy the popular archive material below.
From July 4, 2007: "Enemies of Sustain"

---

We've had pretty good feedback on the MandolinSessions article published last April (2007), Thinking Good Tone Part 1: What the Pros say about Good Tone. Possibly the single most "make it or break it" factor in good tone lies in the issue of

sustain

. Three different factors impact whether or not your playing is capable of good sustain, fretting, picking, and Right Hand/Left Hand coordination.

Fretting. When your fingers hold the note, pressure has to be not only powerful enough, but nailed to the "sweet spot" between the frets, and held long enough to blow into the next note. It needs to be set perfectly and can't be cut prematurely. Paul Glasse mentions the magic midway, just enough pressure to bring the tone to its maximum, but light enough to remain fluid.

Picking. It all starts with the pick. You can't have sustained good tone until you start good tone. Proper "snap," enough force to start the tone with confidence and security, even in the soft passages requires impeccable picking. This is why we recommend spending 10 minutes at the start of every practice session. (See Good Tone Part 2 for a terrific exercise to woodshed this in your playing.)

Right Hand/Left Hand Coordination. Putting it all together is a true art. Listen to recordings of John Reischman the hallmark of amazing control, he's the real deal when it comes to dispensing fluidity (and of course accuracy). Typically, the "motor boat" propeller style of bluegrass picking does not require good sustain. The emphasis in sound of this genre will always be projection; the start of a note more profoundly impacts the discernability in this music. In jazz & classical, we seek notes that connect, even at rapid tempos.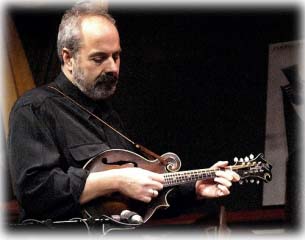 Reviewing, the death of sustain is most obvious when you lift the fretting finger prematurely. You can't connect a group of notes into a phrase unless finger pressure lingers long enough. This is remedied best by working on slow, long tones, focusing on keeping the string vibration active until the start of the next note. Picking deficiency isn't quite as obvious, but a healthy pick stroke can't be taken for granted. The third concern, coordination of the two is a bit more complex issue.
Consider a merry-go-round. Activating this classic child's playground equipment requires a coordination of propulsion and proper timing. If you push too late, you obstruct and actually end up slowing the motion down. If you push too soon, you use an improper and inefficient degree of force.
This is no different than your picking. Listen to some poorly executed cross-picking or a failed bluegrass breakdown and you get the picture. A pick timed too late actually stops the sound, and you get "coughs" in the flow of tone.
Pay attention to your pick timing. You never impress your fellow musicians or any audience with bad tone, not even bad tone at lightning tempo. Don't be afraid to slow hard passage down to a comfortable level of speed and control.

Posted by Ted at March 29, 2012 6:32 AM