« Chord economy | Main | The Muse Continuum. Improvisation and Inspiration. »

March 15, 2012 | Patience with picks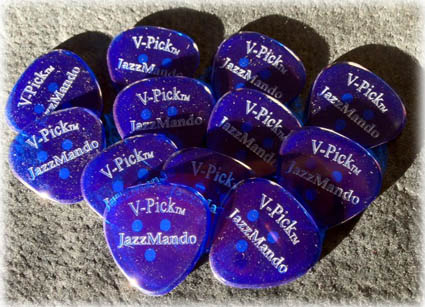 Many like to experiment with picks. It can be an addiction, and one we'll never understand.
There's a camp out there that finds the perfect pick and sticks with it, developing technique around the product, not the other way around. Granted, it's an inexpensive way to change up your sound, but you don't want risk the distraction of gear envy with developing the physical strategies of beautiful tone production.
A beginner's journey should probably start on the mandolin with a relatively thick pick. 1 to 1.5 mm, is the general consensus, if your goal is to pull rich harmonic fundamental out of the string. A guitarist convert will probably feel more comfortable with something thinner (.60-.90), sacrificing speed and flexibility for robust tone. We encourage you to be patient with the thick pick. The control you think you're gaining with the thin pick is far less important to playing the mandolin's piercing soprano register. This is not a guitar.
Flexibility in a pick is not the concern with mandolin that it is with a guitar. At 1.5 mm, no matter the construction, there just isn't going to be a lot of give to any material. Really the only concern in construction will be weight, shape, and bevel. The thick pick will almost always be heavier; again, that's a good thing. Some use even heavier, 2.0mm and up, but the trade off here is control. You also have to finesse the edges on these so you can still articulate notes effectively.
A rounded bevel takes the attack out of the string. The thinner gauge already has a shrill sound, so you want a pick edge that will pull the lower harmonics of the string and reduce the "clacky" articulation and boost tone from the bottom up harmonically.
Fingers are like snowflakes, and every one's is different. You may end up liking a larger shape, rounded triangle, or more of the traditional Fender 351 shape. The benefit of a rounded equilateral triangle is you have three times the number of corners to use. This is worth experimenting, but do it over a long period of time. Don't immediately write off a new shape without several hours of playing.
Be patient.
Further
Prescription strength. Tone.
Deconstructing Mandolin Picks
Guitar to Mandolin
Starting with good tone
Picks and Doorknobs
Posted by Ted at March 15, 2012 2:51 PM