« Pete Martin: Fast track to improvising with CTS | Main | Building a solo »

February 16, 2012 | The mandolin. A place in the world.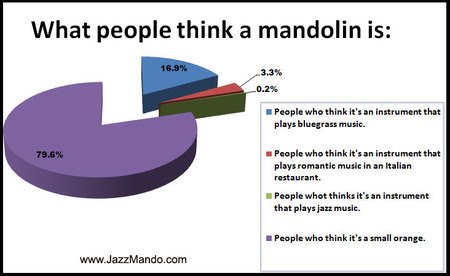 We had some fun with a pie chart recently. The above picture resonated with the mandolin community on our social media channels like a 24 Lloyd Loar mandolin. The point can't be lost in the humor though, that our funny little instrument hasn't followed the same popularity path as the piano or guitar. Even the ukulele seems to be going mainstream faster than its older 8-string sister.
The arguable sonic limitations of the mandolin are probably why, it's narrow alto/soprano range doesn't make it the greatest accompaniment instrument, but there's still a ton of aural potential left in the world for more mandolin that goes beyond bluegrass, sappy movie soundtracks, and classical solo and ensemble literature.
We mentioned jazz in the chart (duh, this is jazzmando.com), but there's untapped potential in the rhythm section of a contemporary praise band and acoustic driven rock or roots music band. The 20th century has been kind to introducing the mandolin and family (mandola, bouzouki, etc.) into a Celtic identity, and of course, there's a huge following of electric mandolin in Eastern Indian music. The Brazilian identity (bandolim) has also matured through a strong impact in Choro music.
Still, we want to see more, and this website is dedicated to its expansion. Our challenge is to put the sound of the mandolin further into the ear of the public through advanced playing techniques and new ways to approach tone.
Join us.
Further:
Opening Opportunity in Accompaniment Mandolin
A common mistake. Clacky, clacky...
Punctuation and percussion; what you can learn from a good drummer.
Complements of you...
What's a mandolin sound like
Posted by Ted at February 16, 2012 8:49 AM