« D'Addario Strings. American manufacturing. | Main | The mandolin. A place in the world. »

February 9, 2012 | Pete Martin: Fast track to improvising with CTS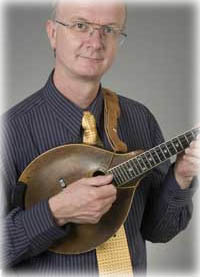 We've mentioned the pedagogical brilliance of Pacific Northwest educator, clinician, and multi-instrumentalist performer Pete Martin on the site before. His collection of online books are an unimaginably good resource for the beginning and intermediate jazz aficionado and any musician attempting to board the train of great improvisation. We highly recommend visiting his site, downloading as many of his books as you can, and of course, pay him his due. You have the benefit of viewing the entirety of each book before you make an investment (donation, really) of $10. By the time you've finished your review, you've already learned something!
The issue he addresses in his "Using the Chord Tone Scale" book is how to get maximum harmonic buck out of melodic patterns based on scales. We all work on the scale, and when you play them straight down and in rhythm, what you discover is you don't always have a strong chord tone on a primary beat. If you're doing a G Major scale, you've got G a B c D e f# G, and immediately, because of simple math, you're out of sequence with strong tones on the beat. Pete's simple "CTS" system supercharges your ability to intuitively and simply place chord tones by omitting some of the scale degrees in ascension and descension.


To play the ascending CTS: Take the major scale and remove the sixth note.


To play the descending CTS: Take the major scale and remove the seventh Note
When you go through this book, he'll show you strategies of manipulating these efficiently through different chords in the scale (diatonic), and modulating through keys. We think this is a much more mature way to attack jazz than relying on Pentatonic scales because it doesn't omit the strong guide tones all the time. It's not something you will do all the time, but it can help the novice feel comfortable jumping right in to active improvisation.
Chapters include:
Introduction
Chapter 1 Explanation of the "Chord Tone Scale" (CTS)
Chapter 2 Practicing the CTS
Chapter 3 Practicing CTS in Multiple Keys
Chapter 4 What Scales to Use When Improvising with CTS
Chapter 5 Playing through Chord Progressions Using CTS
Chapter 6 Playing CTS on Minor Chords in Major Keys
Chapter 7 Playing CTS on Dominant Seventh Chords
Chapter 8 Other CTS Patterns
Chapter 9 Minor Keys and CTS
Chapter 10 Wrapping Up a Solo Using CTS
Chapter 11 How CTS is Used in Common Tunes and Solos by Top Players
This will be the best $10 you spend today!
Purchase information: Mandolin and Fiddle Improvisation Using the Chord Tone Scale
Other Petimar Press books: Download Library
Further:
Pete Martin: Bebop Scales for Mandolin and Violin
Pete Martin: Bebop Mandolin; Target Notes and Chromatic Approaches
Pete Martin Jazz Chord Book
Approaching Improvisation
Middle ground; reading jazz fake books
Posted by Ted at February 9, 2012 1:50 PM