« Deliberate Practice | Main | Pete Martin: Fast track to improvising with CTS »

February 2, 2012 | D'Addario Strings. American manufacturing.
Other than picks, strings are one of the least expensive investments you can make to change the sound of your instrument. We may not be aware of it, but we really live in a Golden Age of string manufacturing, resources plentiful and supply relatively inexpensive on the retail end. It's not easy though, making strings strings in quantity and with 100% perfection, but some companies have been able to produce with an exemplary track record.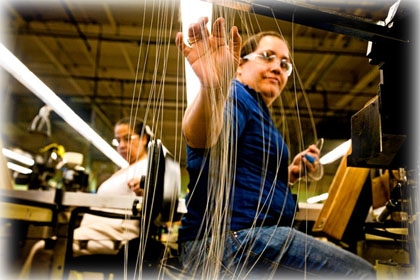 With our North American bias, we're also partial to products that can be produced in the United States by American manufacturing, thus maintaining jobs for US workers. D'Addario Strings has been in the forefront of keeping these jobs here, not only with producing strings, but straps, reeds, and drumheads, as well through smart, efficient programs and policies. These products are sold in 5400 stores in more than 120 countries.
The following CNN video explains as they interview CEO Jim D'Addario:
Video link: CNN Talks with Jim D'Addario About US Manufacturing Jobs
Further:
The origin of a new string: D'addario FW74
Build your own flatwound string sets
Mike Marshall Videos at D'Addario Media Library
Flatwound string project: Mandola/Octave Mandolin
Posted by Ted at February 2, 2012 1:56 PM