« Your local Chord Transit Authority. | Main | Turnarounds and melodic intent »

January 5, 2012 | Fret not
We're in the process of a refret job on recently acquired Arrow F4 mandolin. The instrument was well loved, frets worn in spots, but the instrument was created with a more traditional fretboard, with scooped extension and unfortunately, thin frets.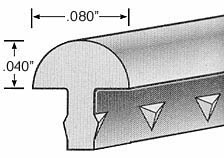 Fret preference is very much an individual taste. The bluegrass traditionalist is probably going to lean toward the thinner, lower crown, and that's fine for open droning and fast, imprecise speed. We lean toward a beefier, more pronounced crown that defines tone and zeros in on pitch faster. You can find many intelligent discussions on this in the Mandolin Cafe Forum from some of the industry's premier builders, and it was there we ran across world renown luthier Paul Hostetter's spec sheet from his luthierie.net site. He maps out an extensive list of available sizes there.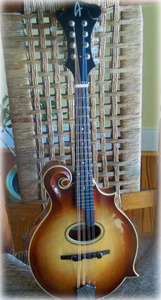 Mandolin
"I keep about 20 different wires for different applications, but for mandolins I use mostly the old Dunlop 6280 (seen in both charts above and below) or the Dunlop 6230 mentioned above. I'm keeping my old 6280 for partials now, and am moving to Jescar's 43080 (in EVO). Stew-Mac's 147 and 148 wires are also hard to beat.
The typical Gibson mandolin fret, at .034" wide and .032" tall when new, is, to me, absurdly small. Most (though not all) of the serious pro players in my mandolin clientèle prefer much heftier ones, such as the Dunlop 6230 or the lamentably extinct Dunlap 6280 (it was really close to 1930's Gibson guitar frets). The old Dunlop 6280 was .076" wide by .044" tall. I wish it was still available, I like that size better. Both are about the same height, but the 6230 is a tad wider and feels different. Jescar makes a wire that seems to have all the answers though, their 39040 (in either 18% NS or stainless), it's .039" tall by .040" wide. That's practically half-round. For folks who prefer really narrow wire, as in the days of yore, I use Dunlop 6310.
Stew-Mac wires are made in Japan and are a bit harder than the Dunlop wire. And some by Jescar, made in Germany, are different than anything offered by the other people. With the exception of stainless, which I don't care for at all, the bigger and/or harder the wire, the more trouble it is to install, but the longer it will last. I believe it's worth the effort."
View chart graphic.

Thinking about changing your instrument? A refret job is not uncommon on instruments well-played over the years, even the highest calibre mandolin. The reality is simply, they wear out. if you are considering changing fret width in the process, obviously you'll want to try other instruments first to make sure this is right for you.
Further:
Another look at Flying Fingers
Fear of flying
Let's review. Why Closed Fingerings again?
Mods Royale

Posted by Ted at January 5, 2012 9:39 AM