« Charles Limb: Building the musical muscle | Main | Your local Chord Transit Authority. »

December 22, 2011 | A good fit. Measuring up mandola strings.
The mandola world can be confusing when shoring up strings for that perfect sound and feel. First of all you have the discrepancy between the European and North American concept of what mandola tuning and scale is all about. The European concept of mandola is often what Americans call an octave mandolin (GDAE) (vs CGDA), so trading internationally requires an agreement of scale to start with.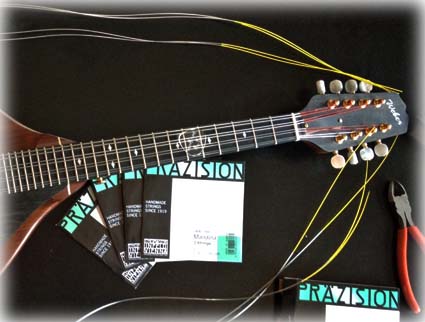 Second is additional diversity in scale. With the mandolin, variance rarely strays beyond 13-7/8" and 14-1/4", so manufacturer string length is moot. Mandola makers, however, can produce instruments that are from 16-17", even as long as 18", making shopping for new strings somewhat perilous, especially if you favor a string with silk wrapping on the loop and tie ends, like the Thomastik or our proprietary JazzDola JD13 (no longer available). The string itself can be long enough, but the wrappings end up into the playing area. If you're trying a new string brand, we recommend holding the new strings (especially the longest, the middle strings) up to the instrument prior to installation. Strings that are installed are not easily returned for a refund, let along dealing with the frustration of an unusable half set of strings.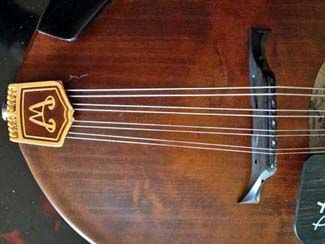 Weber tailpiece--string loops all the way to the end of the top.
Further, tailpiece style can reduce the playable string area as much as 1-1/2". The Weber style tailpiece connects the loops of the strings to the very end of the top of the instrument, rather than higher up toward the bridge on the traditional. Couple this with an even longer scale, you'll find some strings simply won't reach. For example the Thomastik TI 164M (only available in one gauge, medium) will not fit even a smaller 16" scale dola with a Weber tailpiece. Even the longer JD13 strings barely fit on the inside G and D strings. (We're working on that on the next revision. Stay tuned...)
As an aside, if roundwound is your preference, string length is almost never an issue, because manufacturers almost always given extra amount of steel, and these won't have the silk wrapping. That said, we feel many industry mandola strings are built too stout (D'addario medium J74, 15, 25, 35, 52). Even the D'addario light J72 (14, 24, 34, 49) is exceedingly stiff for anything but open drone playing. We recommend for the roundwound player, the GHS PF285 octave mandolin on a mandola (12, 22, 32, 42). You'll cut off a lot of extra string, but they work very well.
Back to flatwound, though. We've experimented with the Thomastik and recommend for the longer scale dola, or even a 16" scale with a Weber tailpiece, the Thomastik 174W (weich or light) gauge for a flat wound string with rich, vibrant tone, and enough playing area for a proper fit. Understand that the difference between octave mandolin and mandola gauging is virtually moot. Lengthening the scale AND lower the pitch, you don't increase the need for thicker strings. These work very well, albeit a tad stout. Gauging is 15, 21, 34, 49.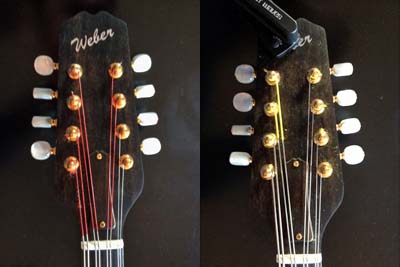 Compare JazzDola J13 left, TI 174W right
We've measured the playing area of the strings. Understand that the 1-1/2" of winding on the loop end is included in the specs:
1st string 29" (plus 6" of yellow silk winding)
2nd string 29" (plus 6" of yellow silk winding)
3rd string 27" (plus 8-1/2" of yellow silk winding)
4th string 27" (plus 8-1/2" of yellow silk winding)
The Labella JD 13 (as of 12/2011)
1st string 29" (plain, no winding)
2nd string 24" (plus 4-1/2" of red silk winding)
3rd string 24" (plus 4-1/2" of red silk winding)
4th string 24" (plus 4-1/2" of red silk winding)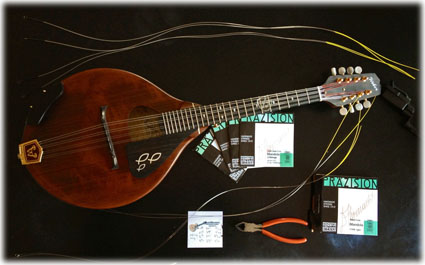 The TI 174W are an amazingly rich, resonant string. They work terrifically for classical and jazz, where penetrating highs aren't necessary. If you're playing lots of open drone diatonic folk music, especially in a loud acoustic ensemble environment, you might want the more brilliant phosphor bronze string, but the TIs do a great job of blending in an orchestra, or if you're solo playing demands a string that is more subtle. .
We've made the case that despite the shockingly high initial price tag, price value on these is too easily missed. These street a little over $50.00 US (JD13 at $32.50), but you can get 4-5 times the string life out of them over a bronze string. Tighter wrap steel construction slows deterioration exponentially. Plus, the smooth feel is radically comfortable on the fingers. For the shorter scale, non-Weber tailpiece mandola, you'll be very pleased with the 164M at a street price around $40.00, and slightly thinner gauging (12, 16, 25, 36).
The 174W is definitely worth the investment for longer dola scale needs when the 164M won't reach.
Further:
Flatwound for octave mandolin and Mandola
The origin of a new string: D'addario FW74
Thomastik Strings
Brilliance isn't always smart
Thinking Good Tone Part 1
Posted by Ted at December 22, 2011 6:06 AM