« Thin-slicing and Music Theory | Main | A good fit. Measuring up mandola strings. »

December 15, 2011 | Charles Limb: Building the musical muscle
As musicians, hearing is an important part of our life. For the non-musician, there's the primal, basic survival aspect of environment alerts and up the ladder, more sophisticated uses of communication through language. The last couple decades have seen major medical breakthroughs with hearing restoration through Cochlear Implant technology. These have covered very well the more elemental aspects of hearing, but as far as they've advance, they aren't near the level they should be for being able to enjoy music, as explained by Dr. Charles Limb in the TED Talk video below:
Video Link: Charles Limb: Building the musical muscle

Something to consider after viewing the video, each of us have different levels of appreciation and of course, perception of tone. Even with fully functional hearing, we have a different set of tools for hearing the tonal spectrum, bright and brassy to warm and subdued. We enjoy what we enjoy, and we must learn to respect what others hear (and seek) in tonal variety.
Oval Hole vs. F Hole? Spruce wood vs. Mahogany? Roundwound strings vs flatwound? Downstroke vs. Upstroke?
Different sounds are created and perceived, and since all our brains are different, we need to understand that beauty is literally in the ear of the beholder. There are physiological reasons for it.
Every day we live, we should be grateful for our hearing, and do everything in our power to preserve it.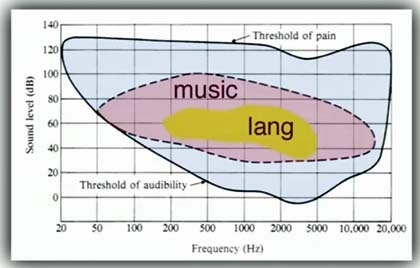 Recommended for loud environments: Sonic II Noise Filters
Further:
Holes
Deconstructing Mandolin Picks
What the Pros say about Good Tone
Using the picking hand to start Good Tone
Making sense. More than five senses?
Posted by Ted at December 15, 2011 6:09 AM