« Best of JM: Cool sounds with a simple new scale | Main | Octave Splicing »

October 20, 2011 | Why Jazz?
We started the website back in 2003 with the charter of shepherding the mandolin world into the jazz world. We could never compete with the popularity of the trumpet or saxophone in this arena, but we had every intention of broadening the barriers of inclusiveness, with the contemporary role models the likes of Jethro Burns, David Grisman, Don Stiernberg, Paul Glasse, Will Patton, and a handful of others who have accomplished jazz mandolin notoriety.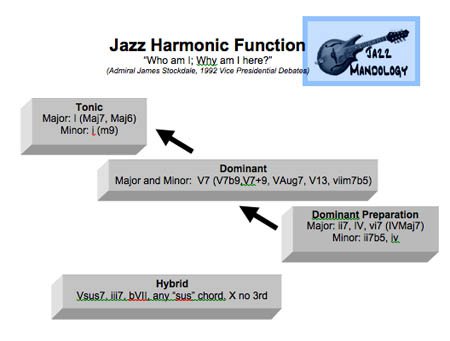 Since then, we've kind of changed our tune, no pun intended, as we maintain a strong jazz vocabulary is beneficial in tackling other genres, as well, like choro, broadway pop, classical, and even hybridized versions of folk music, like "newgrass" or the blues. Traditional (European/Americana) folk music stays within a simple harmonic vocabulary, triad chords that rarely stray extend outside of a dominant 7th (let alone a 9th or 13th), 'IV V I' progressions, and stick within relatively few key centers. Let alone the technical advantages of playing within the FFcP-based closed fingerings, there are many advantages of paying attention to what we're bringing you regularly here in the weekly Tips, news, and accumulated Mandolin Sessions archives.
Improvisation. Even a dedicated bluegrass musician knows the importance of being able to improvise. Granted, the harmonic field in jazz is infinitely wider and more fertile, the ability to just blow within the context of an established song is a skill every mandolinist can enjoy and benefit from. We hope you're getting some of these helps and hints to grow your non-jazz improvising prowess as well.

Harmonic Analysis Skills. The confident ability to instantly spot an arpeggiated chord, a set of 'I IV V' or 'ii V7 I' chords as a tonal/harmonic center, even a mastery of interval recognition, all these are tools that help you get the gist of any literature you are tackling. Just like words become recognizable phrases, writing styles become author "personalities," grasping the ingredients of music, both written and heard, you get an instant insight into where the song is and where it may be going. Hearing a 'ii7 or vi7' chord lets you know you're preparing for something. Hearing a form of V7 clues you are about to arrive. Follow it up with a I chord, and you know you're at least temporarily home.
Jazz. Pop. Classical. The aforementioned skill sets are invaluable cognitive tools to doing more with the music.
Extended Harmonic Vocabulary The limited language of folk music allows instant, rudimentary access to create and repeat. Breaking those walls and including 7ths, 9ths, 11ths, and 13ths lends a whole new color to the pallet. Listen to the rolling arpeggios of a Debussy prelude and hear for yourself what breaking and building new extensions can do injecting a technicolor vibrance. Contrast the quirky extended chords of a choro (or Bossa Nova) standard with a simple folk or bluegrass tune. The jazz extensions are a whole new planet, a gateway to a new sonic frontier.
Ensemble Honing. Playing with others is something we like to explore here. How we listen and play off others in a jazz group is crucial to our job as musical citizens in that environment. No less important anywhere else. Too many unessential note, interrupting others, failing to play in a way that makes someone else sound good is the only way to achieve a premium aesthetic experience.
We hope as you cruise through JazzMando.com, you're able to develop and exploit tools you can use in every other kind of music.
Further:
Happy Anniversary JazzMando, March 19
Functional thinking...
Circle of Fifths
Accidental Indicators
The Seven Chord Naming Rules
Posted by Ted at October 20, 2011 1:32 PM