« Turning scales and arpeggios into music | Main | Best of JM: Cool sounds with a simple new scale »

October 6, 2011 | Comping and fluorescent bulbs
Ever been to a dreary government office building? A few years ago, a trip to the bowels of the US Post Office building for a passport application was a real eye-opener into how drab a work place could be. Cold, grey painted concrete walls, faded stock federal posters, flickering dim fluorescent lighting (remember Tom Hanks office in "Joe Versus the Volcano?"), the environment threatened to suck the life out of everyone in the room. Not a place you want to visit unless you have to, let alone work to retirement.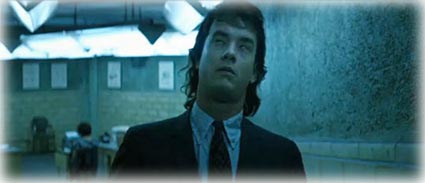 Playing accompaniment chords can be like this. You're on your 39th chorus of "Lady Be Good" (not a bad tune in itself, though), and droning on the same four-to-a-bar V7 chord, chord, chord, chord--it's enough to make you scream. You don't want to deviate too much from the harmonic vocabulary of the rest of the ensemble, but there has to be something to make this interesting.
We have your solution. You owe it to yourself (let alone your audience) to inject some variety, and our latest Mandolin Sessions four part series (three now posted) can give you some potent combinations to add to your comping vocabulary. 3-note 7th chords are an incredible tool on our 5ths tuned instrument, harmonically complete and easy to transpose up and down the fretboard.
The other dirty little secret? Only four inversions. Then you just repeat them in another place or transpose to another key. We give you V7, Major 7, and some clever non-intrusive connecting chords to smooth the motion.
Enjoy!
Static Changes: V7 chords
Static Changes: Connecting Chords
Static Changes: Major 7ths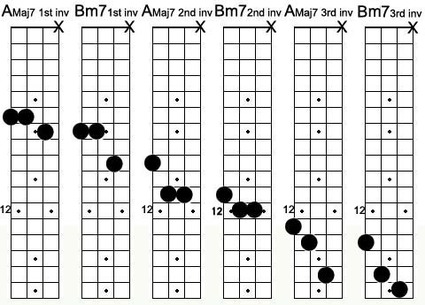 Posted by Ted at October 6, 2011 8:41 AM