« Keeping it loose. Tension and FFcP | Main | Articulate Articulations »

August 25, 2011 | New ways to comp with V7 chords
One of the ways you can really separate yourself from a crowd of mandolinists, or even guitar players for that matter, is to develop a "voice" in your comping skills. The novice will look at a series of several measures of G7 (as in a G blues song), and simply play the same inversion of the G7 in a four-to-a-bar sequence. While this may be technically correct, it is very vanilla in flavor. Yes, you're supposed to be in the background, but that's not to say you shirk the responsibility of being interesting. We want to show you how you can super charge these not only with inversions, but some benign but compelling connecting chords.
In a recent Mandolin Sessions series, we dove deeply into the use of 3-note V7 chords. We outlined the four basic inversions, and while the theory in the articles may have overshadowed just how cool these are, we just want to review how you can make them work for you in context. The four chords are as follows: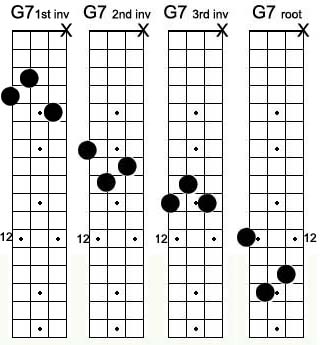 Yes you could play any single one of these chords straight down, but moving around them in pairs can give a fresh take on the same harmonic nature. It's like looking out of the Empire State Building over New York and seeing the same city, but different landscape.
Another thing you can do is alternate with a neighboring Am7 Chord. Since this chord is in the same scale, it fits right in without changing the key.




You can use the Am7 as a connecting chord between the G7 chords:




If know all four versions of the Am7, you can do this all up and down the fretboard. If you're familiar with the Miles Davis classic "All Blues," you may have already been comping this in some form or another.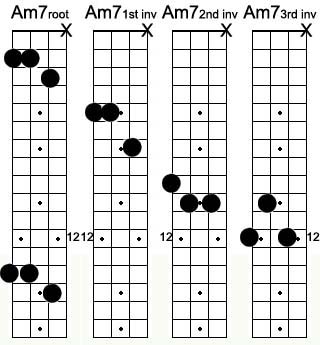 The real beauty of all this is its movability. You can do all this with different keys by starting them in different inversions. Again, there are only four of them. Try it up two frets in the key of A. Figure it out for C7 and D7, and you're ready to jump into some very dynamic Blues comping!
You can also cross strings and move these onto the 1st, 2nd, and 3rd, but observe how good these sound in the thicker 2nd, 3rd, and 4th. The meatiness of the lower register will serve you better in accompanying. They're also easier to play in a firm, rhythm defining pick downstroke.
Read articles:
Static Changes: V7 chords
Static Changes: Connecting Chords
Further:
World Dominants
3-note Chord Dominants; Part 1 (Inversions)
3-note Chord Dominants; Part 2 (Circle of Fifths)
Mandolin Chord Economics
V7 Melodic Patterns
Posted by Ted at August 25, 2011 5:37 AM