« Best of JM: Inner Game of Tennis | Main | Best of JM: Improvisation; I hate music theory (Part 1) »

June 2, 2011 | Best of JM: Improvisation: Ensemble Hatching
Enjoy the popular archive material below.
From January 27, 2011: "Improvisation: Ensemble Hatching"

---
We frequently discuss the ingredients of improvisation at the personal or individual level. The mechanics of scales and arpeggios, rhythmic variation, story arc, and harmonic propriety, but in the last seven years, we've not explored improvisation within the context of the ensemble. What we do to listen to and build off other players in our group is crucial to the aesthetic impact we create for our audience. "Playing well with others" is all about how we listen and respond. Improvisation is creativity, but even more so, when firing on all cylinders, it's adaptation.
Nature creates. We merely adapt.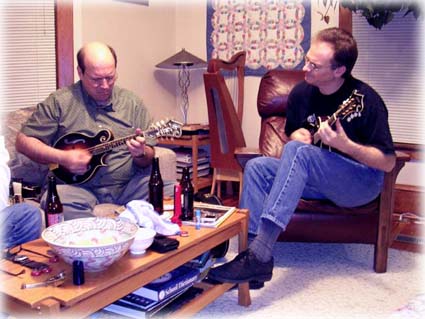 Comedian/actress Michelle James recently gave a talk at a TED conference and elaborates on this profoundly. Strangely enough, the context is of her presentation is using improvisational techniques of her comedy troupe and plugging these strategies into government and the corporate. Still her principles serve the jazz ensemble well, too.
As you listen to her video embedded below, grasp her three points:
Yes, and... (Accept everything and build of the positive aspects of the suggestion.) Someone plays a sequence of note, and nothing is wrong. All is merely a starting point for someone to build from.
Make everyone else look good. (Everything is considered an "offer." Justify. State why it's awesome.) Make effort to restate an idea from the previous improviser, adjust dynamics while accompanying to make the soloist sound good, and for heaven's sake, don't noodle or be a distraction.
Serve the good of the whole. (Not just sacrificing, but giving for the benefit of everyone.) You have your "moment," but there's no bigger turnoff than arrogant self-indulgence. Don't show off at the expense of the rest of the group. If the other players aren't as good as you are, dazzle the audience with your humility. Don't grandstand.
In all three of these principles, you have to be "present," aware of what everyone else is doing.
And finally, in setting the stage; make it safe. Create an environment in which the unknown is your new best friend.

Enjoy video: Michelle James: Improvisation for Cultivating Sustainable Creativity


Further:
Complements of you...
Plays Well With Others...
Course Corrections
A common mistake. Clacky, clacky...
Playing with a drummer
Posted by Ted at June 2, 2011 5:43 AM