« The perfect swing | Main | Pete Martin Jazz Chord Book »

September 16, 2010 | Pick propulsion
Last week we looked at the "strike," the articulation point of attack where pick meets string. It's an important concept to understand, but it's only a part of the picture. The next issue in good mandolin tone is timing, coordinating the left and right hand to get the maximum amount of sustain through a succession of repeated notes.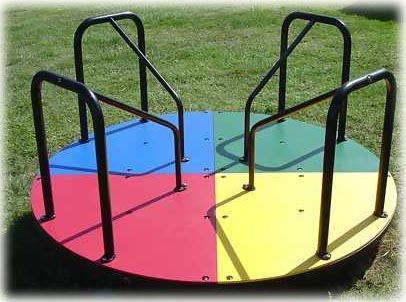 The metaphor of a playground merry-go-round is our picture in a fourth dimensional look at picking. We've used it before where you imagine pushing a child round and round, keeping the speed constant. Once you get it going, any variation in your push can cause the speed to falter. Hold your grip too long, you slow it down. Don't push in sync, and you interfere with the smoothness of the turn.
The "stop and start" impact is not unlike bad pick technique. Unfortunately, the professional Bluegrass realm is full of examples of this kind of "motorboat" effect, the propeller-like sound of pick and string at high tempos, and that "thup-pa thup-pa thup-pa thup-pa" sound is arguably unpleasant even at pyrotechnical speed. The start of a pick should never drastically impact the end of the next note, and in show-off soloing, you hear this once in awhile. Good picking is about starting the sound, not stopping it.
Effective pick control starts at slow tempos, and progresses in players only when developing the ability to intentionally drive the tone one note through to the next. We introduced an exercise to help you hear this in our Lydian DUDU drill from the Getting Into Jazz Mandolin book. The goal is to be able to play it when moving fret to fret, as well as crossing strings. The single note repetition at the end of the 2nd measure gives you the opportunity to setle into a well-timed swing of the pick.
Give it a try:

Lydian DUDU





Further:
Another look at Flying Fingers
Components of Tone
Mind the Gap
Fear of Flying
Posted by Ted at September 16, 2010 5:32 AM