« Compose yourself. Story Arcs | Main | Moving on up. And around. »

July 8, 2010 | Compose yourself. Course correction.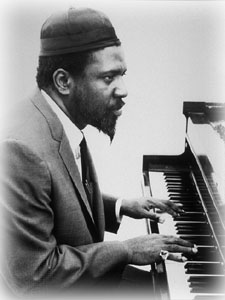 We've gone through our series on intentional improvisation, the first being Antecedent/Consequent thinking, the second Story Arcs, and our final one is probably the least calculating, the most interactive of the three. We've conspired to entice you into "planned spontaneity," thinking structure within freeform. We're going organic.
If anyone has made a career of "mistakes" it is Thelonius Monk. Listen to his playing and his tunes. He made a true art form of playing the "wrong" note, but he always succeeded in making it sound intentional. One could argue whether it is or not, but the beauty is how he follows up the unconventional notes with calculated course corrections. Sometimes we can let the Muse wander and just play anything, as long as we can follow up with the ear (and a little music theory) with notes that put us back on track.
Try it sometime with just one note. Start in the middle of a chord progression with any random note, completely out of nowhere. It's either going to be a "right" note, one that belongs to the scale or chord, or it's going to only be a fret away from the right note. If it isn't right, follow it up with the correction.
Try it with several notes in the same context. If your notes sound intuitively wrong, follow them up with "appropriate" notes that get you back on course. The aesthetic here is allowing your subconscious take over once in a while, getting in touch with your inner Monk (or Jethro) and (only temporarily) turning your frontal lobe off. You can make your follow-up passages with science, or you can just play what your ear dictates is right.
We posted it before, but it's appropriate to embed it in this article, the notion of jazz schools teaching how to play wrong. It's a hoot, because you know it's partially true!
"The fact is, jazz is mistakes. You're playing it wrong...
Jazz is an accident. Waiting to happen. Glad to have happened..."
View Video: Spinal Tap on Jazz

Further:
Intentional Improvisation
The blur between intent and mistake
Playing musically: Part 2, play the chords
Speaking the Language
Notes on your fretboard. Coming out of nowhere?

Posted by Ted at July 8, 2010 8:51 AM