« More on sustain | Main | Frets and temperament »

April 15, 2010 | Literary Mission
From our promotional materials on "Getting Into Jazz Mandolin:"
What makes this book different from any other mandolin book?
Though its exercises offer generous benefit to any mandolinist desiring better finger technique and fretboard familiarity, its focus is on the more complex harmonic vocabulary of jazz, but in a slow, non-threatening tack. It's comprehensive, but not cloyingly detailed, bogged down with esoteric trivia. It allows guidance, but also opens doors to nurturing further player self-discovery. It develops playing strength and discipline, but in a fun and entertaining manner.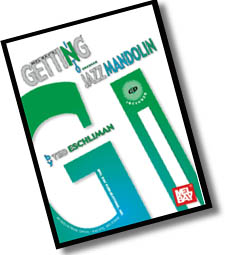 A foundational principle of writing is to create a work intentional and specific to a reader. It's a big temptation (and distraction frankly,) for artists and musicians to write for themselves, often at the expense of commercial success. If the literature is to be effective however, the author needs to have the person buying the book in mind from the start of the first page, the outline, and the conclusion. The calculated approach to GiJM had always been to take an advanced beginning player who already knew some basic folk material, knew the names of the notes on the fretboard (or could at least figure them out), and had the desire to take on more complicated music and improvisation.
We took what we call a Fingers/Ears/Brain approach to the project. Some of the closed fingering concepts were new to many who were still anchored on the open strings on the mandolin, and the first goal was to make fretboard familiarity foundational on finger patterns (1st, 2nd, 3rd, & 4th FFcP), rather than GDAE. Once this is established, the world is your oyster as far as melodic movability. Through practicing the fingers, several months of adaptation would co-produce an aural familiarity. Many readers write in after a few months hearing "notes that just seem to come out of nowhere now" in improvisation. From there, it's possible to start naming those notes and put them in a harmonic context. In other words, the brain comes last.
Language is learned this way. A toddler learns just enough basic words to get fed and played with, and the grammar and syntax comes long after those words. It isn't until middle school, the higher concepts of composition comes into play, by then all the words and basic rules have become intuitive.
We try to have a little fun in the book. Hard core theory is sneaked in, but not until later, long after some of the basic physical elements are internalized. We hope midst the guerrilla cerebral concepts the whole road is laden with interesting personal detours; ultimately, the self-discovery will make you not only a better jazz musician, but a more adaptive musician all around.
Enjoy: Getting Into Jazz Mandolin
Further:
Webtracks Audio Support
Fingers, Ears, Brain.
Paths to fretboard mastery
FFcP
"Math, eggs, and mandolins; higher level understanding

Posted by Ted at April 15, 2010 9:15 AM