« Don Stiernberg on the "Big Picture" of improvising | Main | When is a #9 NOT a #9? »

March 11, 2010 | Starting off
Reader feedback is great for generating our Tips articles. This latest question is a frequent one, so we thought we'd post our answer for all to ponder. The thing about physical performance is everyone reacts differently, depending on age, experience, condition, and even mindset. We'll be as general as we can, but keep in mind, it's all still contextual; YRMV--your results may vary...
"I got my book today. Thanks for the quick shipping. I am already working through the FFcP exercises. Most of these are familiar to me because I have been improving fiddle tunes for a while. However, I have not sat down to analyze them as you have in the book and especially to work through all the intervals in the exercises. This is going to take some time and some work. I thought my pinkie was pretty flexible but this is really going to give it a work out.
My only questions relates to how long I should work on these exercises. My tendency with instructional material is to go through it as quickly as possible. I don't want to do that but rather really absorb what you have to offer because this will benefit my mandolin playing in any style of music. Should these exercises become so thorough they they are all memorized and become part of my warm-up technique? At which point should I move on?
Thanks again. The material looks great and I look forward to working through it.
C. Wylie, Texas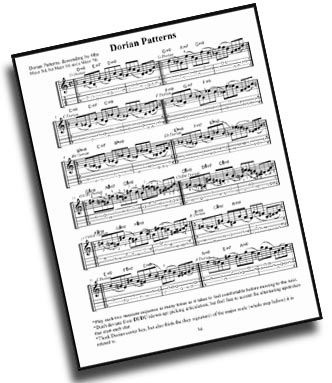 The FFcP is very much a tactile thing. It's got the "mental" in it as well, but before you can really make it aural or intellectual, you need to take our "Finger/Ears/Brain" pathway and start easing into the jog. If they aren't somewhat physically taxing initially, you probably aren't playing with good sustain and proper control; the 3rd and 4th finger demands aren't easy. Even fiddle players with a classical violin pedigree inevitably use slightly different muscles in the forearm and hands (because you hold both instruments differently), so it is prudent to not try to do too much out of the gate.
The goal is to get them to the point where you can permanently use sections of FFcP in an 8-12 minute warm-up, but there is nothing wrong putting a little more time into them at first PROVIDED they aren't causing you any pain. This is a synapse signal you should not ignore; you're body is warning you to take it easy. If you get to the point where it goes beyond discomfort and on into pain, it's time to take a break.
As far as memorizing the exercises in our FFcP downloads (and the "Getting Into Jazz Mandolin" book), it would be great if ultimately you could learn them well enough you can do them subconsciously; this is fodder for improvising, but it may take several months before this will happen. You will spend a disproportionate amount of time on these compared to the rest of the book, because they are so foundational. Still, you don't want them to be boring to you either.
These are exercises to give you both conditioning and theoretical resources to develop even sharper improvisational skills in folk & jazz, but they are also great for increasing your capacity to play any kind of music. Take a few months to get them ingrained into your fretboard.
Have fun!
Further:
Bringing it home.
Stop the pain.
Stretching
Home Stretch
Math, eggs, and mandolins; higher level understanding.
Posted by Ted at March 11, 2010 8:06 AM