« Mobility--chord transit | Main | Calisthenics and mandolins »

February 4, 2010 | Punctuation and percussion; what you can learn from a good drummer.
We recently had the pleasure of playing with a talented, upcoming star drummer, Charity Hamm. The experience is one worth sharing with the JazzMando community, as there is much the young twenty-something can teach about "playing well with others" in the way she prepares, listens, and complements.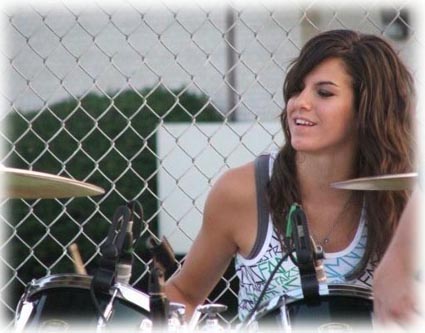 First of all she comes to rehearsal and performance totally prepared. She unquestionably knows her part, intimate with the music's rhythmic highlights and the ensemble's "punctuation" otherwise known as "band hits." A mandolinist can do well listening to a good drummer; it's not just about backbeat chops, it's hearing the occasional emphatic "POW!," often preceded by an intention gap of silence. The powerfully percussive nature of our treble instrument is superbly exploited in these moments, matching precisely an important cymbal crash or sharp rimshot is even more critical than in most other fretted instruments.
Silence is golden, and when everyone does it together in the middle of a song, it can attract as much attention as a loud crash. It was interesting to see how intentional her cymbal muting and hihat choke during brief pauses made the band's succeeding entrances that much more exciting and dramatic. You often don't think of the average drummer using space for drama; only the good ones know how to embrace it, making the loud's louder.
Variations in intensity and timbre are also the mark of a good drummer. One verse has a light snare backbeat, the next verse has a more powerful one. One chorus is mostly ride cymbal on the mid-edge, the next is mostly cymbal bell, and of course the change in timbre at the bridge makes the final chorus statement that much more powerful. Sometimes the best thing a mandolinist can do is simply sit out an entire verse and let an acoustic guitar shine in a lighter dramatic diversity. When we play, we can also exploit the instrument's diverse color opportunity, playing farther from the bridge for warmth, using more pick downstroke for power, tremolo for intimacy.
Energy happens when musicians lock. A mandolin doubling a snare backbeat, not just a "chop" but a tightly confident beat "sonic agreement" gives the rest of the players a subliminal feeling of energy that's downright contagious. A cross-picking subdivision on mandolin can also lend a similar energy in the music's quieter moments.
It's always fun to play with a good drummer. Charity's attitude is consistently about making the band sound great, not just spotlight herself. It's that servant attitude that makes good bands great.

What can you learn from your drummer?
Further:
Silence is golden.
We will, we will... rock you.
Ensemble Sensitivity: Corps playing
A common mistake. Clacky, clacky...
Plays well with others.

Posted by Ted at February 4, 2010 9:50 AM