« Tonal Centers: a hand up from Ralph Patt | Main | Fiddling with Flying Fingers »

November 26, 2009 | The Inner Game of Stress
Almost three years ago, we reviewed some valuable concepts introduced in a ground-breaking book, "The Inner Game of Tennis." We advocated this 1970's (revised in 1997) revolutionary approach to sports behavioral science bore relevant, credible comparisons to performing music and pointed out three strong concepts relevant to playing mandolin, including guides for experiential self-discovery, the correct way to avoid bad habits, and the significance of "interest" in effective learning. (For more detail see archive links at the bottom of the page.) The author has since authored books on the subject of golf, music, and work.
Timothy Gallwey, along with co-authors Dr. Edd Hanzelik and Dr. John Horton has just released an excellent and timely book, "The Inner Game of Stress." What does this have to do with playing? Everything, if you are all about improvement and achieving your full potential.
At best, stress can be a tremendous distraction, and at worst a crippling, life-threatening condition. It can have adverse effects on health, most definitely thwarts forward motion and progress in practice and performance. The book outlines some of the basic physiological elements in the "Game" of stress in Part 1, and offers helpful ways of "outsmarting" it in Part 2. The 3rd outlines practical and beneficial tools in conquering the condition.
A players, we are vulnerable to the often debilitating impact of stress when we tackle challenges in performing, say at a concert or exposure at a jam. The primal "fight or flight" instinct is a more immediate example of this disconnect, and this was well-covered in his earlier "Tennis" book. What Gallwey explores here is even deeper, elements of health and well-being, but issues tackled in this release are relevant to your daily practice and enjoyment of learning the mandolin. He takes a three-pronged approached, the three elements of achievement, the PLE triangle of Performance, Learning, and Enjoyment.
Performance: The most basic component in the act of achievement is our goal of excellence. We want to accomplish at a high level, but sinking all our efforts into this alone can lead us into the disastrous effects of failure, or more often, stifling fear of failure.
Learning: No matter what we do, we should always include in our activities the goal of gathering a new experience or skill. You can enter a picking contest or tackle a difficult solo knowing full well you aren't going to come out on top, but you'll write off any results as a learning experience. Challenging situations always offer some kind of learning, and if you include this as a part of the mission, it takes the pressure off performing at anything but perfection. Its knowledge also prepares you for a better follow-up attempt.
Enjoyment: Who says you have to be great at something to enjoy it? We don't all have to be Tiger Woods to look forward to golfing; we don't have to be Chris Thile in playing mandolin. Our audiences don't expect it, so why should we expect it of ourselves? If we tackle a challenge with the notion that no matter the outcome, the experience will be something that includes pleasure, the anxiety of performance becomes far less intense. Why do we call it "playing," anyway?
Obviously the PLE model is applicable to how we approach our musical performance on stage and personal practice, but these ideas are a possible realignment of how we handle stress at work and home. We want to do well, but are we learning something? Is there and element of fun in the activity? If the latter two are missing, we are completely vulnerable to the negative impacts of stress.
The 209 pages are a relatively quick read, pleasantly anecdotal and easy to digest. We highly recommend this book to anyone vulnerable to stress.

Who isn't?
Purchase information: The Inner Game of Stress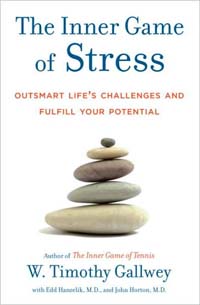 Further:
Inner Game of Tennis
Breathing through your eyes
How do I hold it?...
Picks and Doorknobs


Posted by Ted at November 26, 2009 7:30 AM