« Limiting your voicing. Three's company. | Main | Sharpening learning skills »

November 5, 2009 | You may quote me on that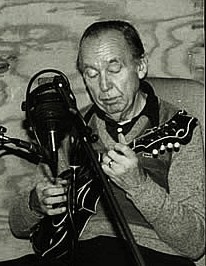 As a sort of private joke, our band use to enjoy slipping a favorite musical "quote" in improvising, the first eight notes of the "Theme from the Lucy Show." It took some skill to slip it in randomly throughout the evening, making the notes fit within the changing harmonic context, and it was always funnier if it got by the audience, except for a few discriminating ears. Once in a while you'd hear a snicker from one of the tables; a player is always appreciative knowing that they were listening closely.
This is more than just some kind of musical prank, however. Certainly, you have notable mando-jokesters like Jethro Burns and Don Stiernberg who have taken the "quoting" to a whole new level of art, and they are a joy to catch in action. Appreciate the compositional skill it takes to do this, but also recognize this is something you can translate into your own melodic creation. You don't always have to play these recognizable nuggets, like segments from the "Andy Griffith Theme," phrases from your favorite college fight song, or the beginning measures from "Scrapple from the Apple," and play them intact. You can take these recognizable motives and develop them, a miniature "theme and variation," if you will. Add some additional passing tones, adjust a note or two, make major into minor and vice versa, and you on your way to creating a totally new melody.
Licks and riffs can be tremendous jumping off points for new musical frontiers.
Of course, a little musical "Where's Waldo?" can be fun, too!
Further:
Improvisation: Pattern Based vs. Theory Based
Improvising: Throwing mud on the wall
Playing musically: Part 2, play the chords
Need a chord?
Improvising: A three-pronged attack
Posted by Ted at November 5, 2009 1:37 PM