« Chords in the fingers. Chords in the head. | Main | Respect the Silence »

August 20, 2009 | Complements of you...
First reaction for the astute would be we've misspelled the title, but bear with us as we explain.
If you're a sports fan of any kind, you've probably been to a stadium or gym where the audience was treated to the communal "Stomp stomp, CLAP! Stomp stomp, CLAP!" The crowd reaction is primal, the next response you hear after the rhythmic groove settles in are the lyrics from the chorus, "We will, we will, ROCK you!" Primal? Yes. Aboriginal? Arguably, but the effect is almost universal, the invitation to join in is compulsive.
It's the simplest elements of rhythm and melody that offer this kind of broad appeal, and there is nothing wrong with settling in to this approach to grab your audience. It's a big consideration when you work within an ensemble, how the sum of the experience can remain satisfyingly simple, and still offer more complex nuance outside of this framework.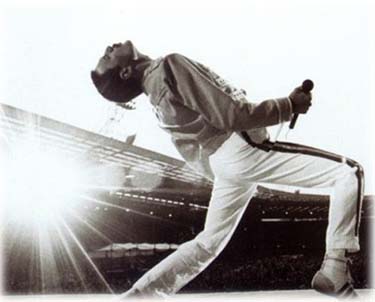 A good example of this is taking the impact of that stirringly popular "Queen" song into your own strategy of complementing the other players. If you work with a drummer, the driving "CLAP" part of this is in the snare drum. The question becomes what can a mandolin do to complement that backbeat? Consider the "Stomp, stomp." part of the groove. In other words, your "1 and... 3 and..." stomps work in tandem with the snare's CLAP!
Generally, working with a drummer, we try to lock in and reinforce the backbeat, but embrace the occasional opportunity to "complete." Maybe it's the bass player you want to complement, and electric guitar riff, or another percussion instrument. Just don't fall in the very common trap of being yet another strumming "guitar."
Assure your audience that "We will, we will, rock you!"
Further:
Opening Opportunity in Accompaniment Mandolin
What's a mandolin sound like?
Mandolin in Context
Plays Well With Others...

Posted by Ted at August 20, 2009 9:01 AM