« Start your day out with a song | Main | They say the best things in life are free. Mandolin Resources at the Mandolin Cafe »

June 11, 2009 | Let's review. Why Closed Fingerings again?
For the folk/bluegrass musician, the notion of closing up fingerings and forsaking the open strings seems very much counterintuitive. The majority of the repertoire is based on open string keys, songs played within the relative comfort and safety of of G, D, or A. In those keys, you not only have the root of the key in an open string, you have that important 5th (D, A, E) to ring out in the Tonic chord and Dominant. You can strum and ring all you want, sometimes with a forgivable dispensation of missed strings. So why worry about closing things up and torturing the pinky with that 7th fret stretch? Let's look at four reasons:
Horn Keys. The church hymnal strikes fear in the heart of many a novice mandolinist. Keys of F, Bb, Db are not uncommon as the literature is written for voice register. Same thing with Broadway tunes and you have an entire body of jazz written for the sax and trumpet. Understand if an Eb alto sax is trying to play in the key of A with the rest of the band, he/she has to think in F#, which explains why so much "horn" music is in the keys of Eb (C on the a/sax) and Bb. Friendly to the mandolin? Definitely not if you're expecting to use much in the way of open strings, especially on those critical notes of tonic and dominant.
Transposability. So you learn the FFcP, study and master all kinds of patterns that are now movable. So what do you gain? THE WORLD! You can move intuitively across strings and frets, and now you're not thinking note names, you're thinking scale degrees and patterns. Some might argue you aren't "thinking" at all any more--just "doing." In other words, you improvise through an intuition based on sound and feel. You "sing" the music through your fingers. We've enjoyed the feedback of many who have achieved this sate of FFcP Zen. "The notes are just coming to my fingers from nowhere!"
Range extension. This goes along with the transposablity; you now aren't limited to the lower frets of the mandolin but are free to securely wander in the upper altitudes of the fretboard. Once you adapt to the closer spacing of the 9th through 15th frets, you are practically handed a new instrument. This is a cool way to get around.
Tonal variety. Yes, the resonant zing from an open string is natural sonic beauty. There is also an articulation consistency when a succession of notes is completely closed in fingers. Play the open D on your mandolin and follow up with a 7th fret (G string) D; you'll hear a tonal difference. One isn't necessarily better or worse, just more consistent with the other notes you're playing in a sequence. Also, if you're really in control, you can get a subtle vibrato on a long sustained note. This is why orchestral musicians actually prefer closed over open fingerings.
---
We recently took a step back and submitted in our June MandolinSessions column, a review on what FFcP is all about. If you are new to this, or simply want to understand the overview mechanics of the Four Finger Closed Position, take the time to read this. Also, if you wouldn't mind, job security is a good thing; submit your comments (positive, hopefully) in the Feedback section on the bottom of that article. (Love the 5-star ratings, too.)
Read Jazz Mandology "Closed Fingerings"
Further:
The Importance of Pinky
Doublestops and Barre Chords
The Ab Position
Fear of Flying
Leading Off Third Base; The benefits of third position fingering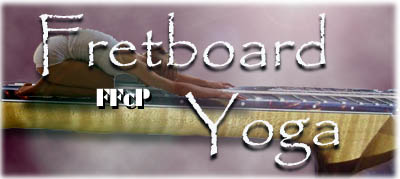 Join the FFcP 'Fretboard Yoga' Facebook Group

Posted by Ted at June 11, 2009 11:13 AM