« Don Stiernberg on chord voicings | Main | Using food to understand rhythms. »

May 28, 2015 | Maximizing the "E" Zone
For some players, depending on the way their hands and wrists are built, or simply through developing bad habits early on, the first five or six frets of the E string can sound weak or pinched. The discussion will be very relevant to you if you've played literature on other areas of the fretboard and suddenly, you lose tone when playing anywhere from the first fret "F" to 5th fret A on your E string.

If you've ever fiddled on "Devil's Dream" in the key of A, "Sailor's Hornpipe" in G, or (speaking of devilish) "Blackberry Blossom" in G, this may resonate with you. Some players will transpose Blackberry up a third to B just to give a little better finger flexibility in narrower frets. This may be because of the shorter fret span, but it might also be due to the "angle" issue we'll discuss.
Holding the Left Hand "normally" (whatever that means), your fingers need to be able cross span comfortably from 1st string (E) to 4th string (G), meaning your fingers are generally perpendicular to the neck. This is very comfortable for the lowest strings, but most will find the E string (maybe A, too) a bit cramped, and that means trouble in two areas.
1. Finger pad coverage. Notice you play with more fingertip and less pad with the drastic curve necessary for effective string contact. Less flesh often results in a pinched sound.
2. Finger grip. A perpendicular wrist angle thwarts the maximum control and flexibility the fingers require to not only cover with any degree of strength, but to move in and out of position (see "Ulnar Deviation" below).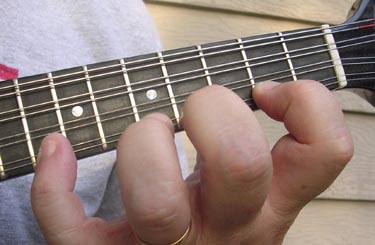 The solution here is quite simple. By curving your hand slightly toward the body of the instrument, adjusting your fingers to angle closer to parallel to the strings, you not only get more finger pad, the wrist will loosen up significantly.
Put your mandolin down and hold out your hand, palm straight up and wiggle your fingers in "air mandolin" motion, tapping your palms with your 3rd and 4th finger. Now, do the same only curve your hand slightly toward the floor. Notice how much less tension there is in your forearms. Also notice your fingers can actually reach farther.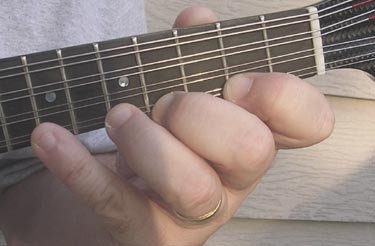 Take this concept of wrist angle, and add "slant" to your fingers as pictured. As you tap on the fingerboard, enjoy the added dexterity this position offers in this string area.
Hmm... Flexibility, control, tone, relaxed. What could be wrong with this? Essentially, there is a point of diminishing returns in that this is not as effective for your lower strings (G & D). You'll want to discover for yourself what the best angle is for you fingers and hand size.
The point is to free your fingers up and relax the wrist. You may be quite surprised at what this does for your tone, especially in the "E-zone."
A Fiddler's Perspective.
Interestingly, this issue is compounded in violin, which unlike mandolin, is held with the fingerboard is parallel to the ground (not perpendicular).
Nissa de la Torre
, professional violinist and educator tells us, "
you do not want, what is called, "ulnar deviation" Simply put, the pinky-side of the arm (where the Ulna is) should be more or less a straight line from the arm through the hand. The movement of the wrist back-and-forth or left to right is a negative movement when repeating. (Up and down is good!) The placement of the left finger as we are discussing causes this Ulnar Deviation."
She tells us many beginning violinists suffer from this, and the habit seems to stick until the opportunity to player in the upper positions of the violin and/or adding vibrato to their playing.
Posted by Ted at May 28, 2015 2:00 PM