« FFcP Roundup | Main | How do I hold it?... »

May 22, 2007 | Taking the Cowboy out of the Chord
Fellow picker and JazzMando All-Star John McGann, professor of mandolin at the Berklee School of Music (we know he also does guitar, but we just love using "professor" and "mandolin" in the same sentence) was waxing poetic a few weeks ago about the new undergraduate guitar majors who came to study jazz. Of course the language and vocabulary of jazz takes the player out of the lower frets and open note chords, commonly referred to as "Cowboy Chords." (This is not a compliment either, even if you are a cowboy.)
Another distinction of these chords are their triadic simplicity. We're not talking fingering a G7+9(b13) either. Part of the Berklee mission (and other prestigious music conservatories) is graduating players out of this lower fret confinement, weaning off the milk and on to and solid harmonic foods up the neck. The truly good jazzer will have a myriad of instant chord variations at his/her fingertips, but another important consideration is voice leading or context. You don't want chords to bounce around more than a few frets if at all possible keeping common chord tones in the same frets.
We take a stab at this in our 'ii V7 I' stock chord progressions lessons. Knowing these variations in several smooth, ergonomic positions and variations is a crucial skill, and it's not too early to start. We suggest learning these basic positions and later transposing them into as many keys as you can. You don't have to write them all out but if this helps, take advantage of the JazzMando Fretboard Template PDF for learning this and tackling all 12 keys.
If you're ready to start building your own chords, check out (or review some of the principles in our Chord Economics Lesson. Admittedly, we do have a bit of a challenge communicating six notes of a complex chord with only 4 notes on the mandolin fretboard, but remember, we get the privelege of expressing the color of the chord harmony.
Cowboy hat not included...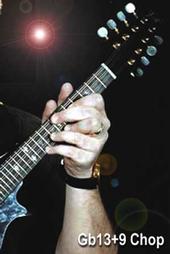 Posted by Ted at May 22, 2007 9:23 PM